We value all comments from our readers. If there is something about the game of hockey hat you would like to express your opinion on, feel free to use this forum. Hockey is an emotional sport and all hockey fans have opinions. Let's hear what you have to say and give others a chance to respond. The most recent comments sent to us are the first ones you will see at the top.

If you would like to respond to one of the comments below,
or if you have your own opinion to express,
submit it here.

Your site is outstanding! Loads of useful information. Anyone with any love for hockey could benefit from reading through "For The Sake Of The Game". Good job and thank you!
Robert A. Chapnick, Attorney at Law

So You Want to Coach Minor Hockey
A letter sent to After The Whistle by a concerned hockey parent and coach...
It has been two years since I left the coaching ranks of minor hockey. Watching the Hockey Day in Canada event on television recently and seeing some of the great features presented throughout the day on the game's volunteers had me reflecting on my own experiences as a minor hockey coach, and to ask the question "Why does an individual volunteer to coach minor hockey (sports)?"
So why does one want to coach minor hockey? There are a many valuable reasons why one wants to be a minor hockey coach:
· Working with children and young adults
· To teach what you have learned from playing and being associated the game
· To stay involve and give back to the game, what it gave to you
· For the sheer love of this great sport
These are just a few and each of us I'm sure has many other reasons why we want to coach minor hockey. I first decided to coach when my son was old enough to register for hockey 10 years ago. I had been associated with the sport for virtually my entire life in one capacity or another. I felt I had a solid background to teach the game being a former Junior, College and Senior player, and as an administrator of many minor sports program with my background as a Recreation Practitioner where I had seen many coaches handle, and perhaps not handle, the pitfalls that can come with coaching minor sports.
Yes I heard horror stories from individuals who coached about the problems that can occur from the parents of the kids you coach. Perhaps naïve I felt with my background and that fact I was seen as diplomatic in my professional life would be more than enough tools to combat the worse scenarios that might occur. So yes I was "ready" to tackle the ranks of a minor hockey coach
Those first three years as a "Pre- Novice" (5, 6 & 7 yr olds) coach were great. Just like I thought they would be or even better. I seemed to have the right demeanor and the program I had established was solid. Everyone loved "Coach" and I could do no wrong. Next level is Sr. Novice (8& 9). Teams are now divided into an "A" and "B" traveling team and 4 house league teams.
Coaches go through an interview process and players are evaluated and placed on teams based on their skill. A small perception is beginning to be established among some parents who hint that players are selected for teams because of who their parents know. I coach the "B" team and, unlike the "A" team, there are some expectations but nothing grand. Parents hope their kids learn and develop and perhaps win a few games in the process. Well the team surpasses expectations to have a great year and ultimately win the league championship. "Coach" is a miracle worker, an asset to the organization, the next Scotty Bowman, and can do no wrong. That year I receive our association's Coach of the Year award. Now in the back of my mind I think it was Don Cherry that said receiving the Coach of the Year was the kiss of death. Anyway let's continue.
The following year my son evaluates to the Novice "A" team and subsequently I am interviewed for the head coach of that team. I am successful but not without some negative backlash as to why I was selected over another individual.
Parent's expectations are higher than the previous year because we are now the "A" team and the "A" means better. League play is tough and we are challenged talent wise compared to other centers. The team steadily improves but do not make the playoffs. However the club has a successful year-end tournament run winning two A side championships and coming in second in the final tournament. The season is salvaged somewhat but my "jolly good fellow" tag has diminished.
The next year sees the age categories change and therefore my son is now in his first and final year of Atom. He again evaluates and is placed on the Atom "A" team and again I interview for head coach of that team against the same person from a year ago, ending in the same results. Expectations from parents increase further as the next year will be Pee Wee and "AA" hockey and I better get these kids ready.
The team that I have is fairly similar to the previous year with two or three changes, and play against virtually the same group of kids from a year ago, and again are challenged talent wise. Once again we come short of making the playoffs but have some success in tournament play and qualify for the provincial Atom "A" Provincial tournament.
Knowing we are headed for the provincial finals I begin to make some adjustments, moving players from defense to forward and vice versa and experiment with special teams, as we know the competition will be tough. Some parents are angry and tell me I am setting up their kids for failure. Nonetheless we have a solid provincial championship and lose in the semi finals. A decent finish to a tough season! "Coach" still has his supporters but some parents are not happy with losing and question our talent level, and my coaching abilities. The "jolly good fellow" tag is gone.
The next season is Pee Wee, and the beginning of "AA" hockey. Coach selections are done in the summer, as coaches are now responsible to pick the entire team. I am again in competition with the same guy over the last two years and again awarded the head coach job.
Try outs commence and "oddly" enough I regain my title as " jolly good fellow" for awhile and everybody wants to talk to me…hmmm. The offers to buy me coffees and hot dogs have never been greater, that is until my final player selections are made. From that point on I am "public enemy number one".
I receive scathing and attacking letters and phone calls. I have "ruined the lives and careers of several 11 and 12 year old boys", so I am told. As the year moves on it is very apparent our talent level does not stack up against the large centers and our team struggles. Parents become disillusioned with high-end hockey and some feel we should not be playing at this level at all. Others blame me entirely with one parent pulling his boy because I did not pick the right players for his son to be successful with. I have discipline problems with some kids and the year is very tough.
I do not only lose the title of "jolly good fellow" for good, I lose friends (or so I thought they were friends) and acquaintances because I did not select their child, and because of our record. As well my wife and son are looked down upon from some of these people.
I consider packing it in after the year but really still love coaching and do not want it to end like this. So I re-apply for the same position the next year and this time I am unattested. The try out numbers are very low and the quality of kids to choose from is very thin.
Knowing this will likely be my last year I bring on some young non-parent assistant coaches to mentor with the hopes they will continue on and add a fresh perspective. We are more competitive than the previous year and there is potential to win more games, but for that to occur the bench, at times, may have to be shortened, right or wrong.
The games are won but the outcry begins. The dreaded parent meeting with the coach and association occurs and the end result is winning is now not important and equal ice time is. I can live with that if they (parents) can.
Well we go on a miserable losing streak that virtually knocks us out of the playoffs by Christmas. Some parents are again angry about the losing. We have another player that quits because the level of players on the team is not "good enough", along with the coaching, for their son to achieve success. The year is almost worse than the previous and it is certain that I have coached my last season… for a while anyway.
I suppose reading about my experience one might think this is sour grapes on my part and I deserved the outcome. I guess I still harbor some ill feelings and have some regrets of friendships lost or at the very least substantially tarnished, and from other individuals that I had never known, period, that will forever despise me because I was either selected as a coach over them or had to cut their kid in the process of selecting my team.
It is these outcomes that I feel no volunteer, coach or otherwise, deserves to ever have happen to them. However I have also come to understand if you are going to put your neck out you have to expect people will try to chop it off. As a volunteer coach you must understand parents will question things you do and probably have some right in doing that in today's world. Non-parent coaches can shrug this aside because they usually have no past history with the parents or players. However a parent coach likely knows a number of these people through school functions etc. and it then becomes harder, or more uncomfortable, to deal with.
It is not my intent to scare individuals away from coaching, but to have them understand the evolution that usually occurs. More times than not my story is similar to many others. So what can you do to avoid some of these potential pitfalls? Probably nothing. They are part of what one has to endure as a volunteer coach.
However to minimize what will no doubt eventually take place, consider the following if you want to coach minor hockey (or minor sports in general).
| | |
| --- | --- |
| | If you are going to be head coach of your own child's team consider not going past Atom (9 and 10 yr old) or at least into Pee Wee "AA" or higher. Your integrity as a parent coach will be scrutinized over and over at this level or higher. Usually at the lower levels, the association's evaluators primarily do the selection process for you. So basically you do not have to make the "tough decisions" regarding player selections and this is probably the most contentious issue as a parent coach…or coach period. |
| | Coach a team your child is not on, or offer to no more than assist the team he or she is on. If you truly love coaching and want to be the head coach you will have a better chance of survival by doing this. If you feel you can't do this because of conflicts in your child's schedule versus the team you may be coaching, then step away for a few years or take a different role on your child's team (manager, trainer etc). If you love coaching there will always be a team to coach once your children have passed through the system |
| | Understand that you are going to have conflicts, especially at the high-end levels. By simply ignoring this and thinking "not me" will only certainly come back to bite you in the back end. Talk to past coaches and really investigate how to manage through the parent pitfalls. |
| | Check with your association to see what measures they have in place to combat parent "abuse" and other support features they offer coaches. Plain and simple if your association has no plan for this you as a coach are in a no win situation |
One final note is to not take yourself or your position too seriously. Yes it is a huge responsibility to coach children and the parents do deserve a committed and trained individual who is always prepared at practice and games. However we all have to remember it is still a game or recreation pursuit. The cream eventually rises to the top regardless of coaching or success of a particular team. You can assist that process as a coach but understand it is the player…and fortunately or unfortunately his/her parent, who will eventually determine their own destiny in hockey.
Oh yes will I coach again? I would like to but likely in an assistant position as I think my experience, and what I have experienced would be more beneficial for supporting a head coach…. and I would still get to work with the kids!
Jim Racette
Okotoks , AB
Generate More Interest In Officiating Is A Major Concern For Writer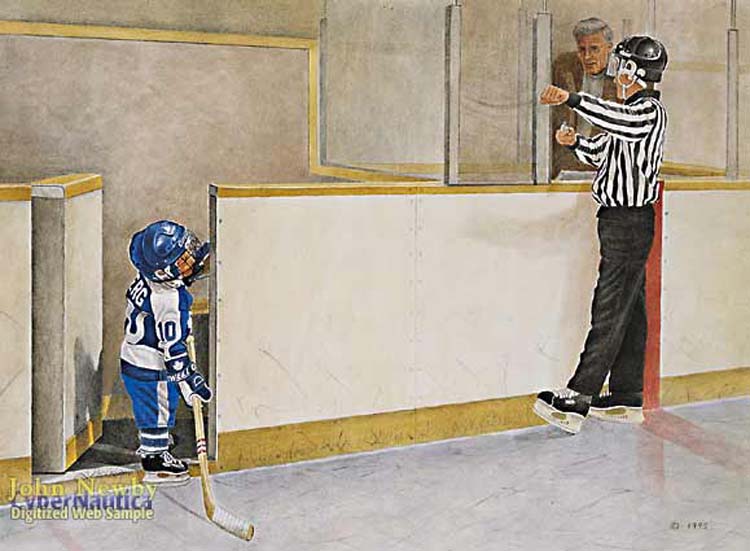 Dear Editor:

I'm not sure if you have the same issue that we have here in Alberta but we cannot seem to get the numbers up for officials.

One of the constraints is that the certification is a 2-day seminar. Unfortunately, today's fast paced business world does not allow that kind of time commitment.
Comments I have heard include: " I could take a couple of hours to ref a game but 2 days is too much."
I may have a solution. In Alberta we have a Petroleum Safety Training program that could be a model for training officials. I propose that an internet course be offered that the participant could complete in their own time and when completed a certificate could be printed. The participant could then enroll in an on-ice session to complete the officiating training for 2-3 hours.
This would free up instructors as well so that more sessions could be offered. Just a technological advance that may serve us in gaining some numbers.

Brett Marple, Fox Creek, Alberta
Thank you for your letter, Brett:

We certainly do have the same problem in Sudbury and it appears as if it may be even more difficult to find people who are interested in becoming certified as hockey officials. The system will have to provide more support for officials who are already in the game and will also have to come up with a way of establishing a "coaching program" to ensure that hockey referees are nurtured and developed, thus ensuring that they remain in the sport. Robert Kirwan, Publisher
Hockey Referee From UK Asks Questions We Hear All The Time In North America
The following is a letter that was sent to one of our other Online Publications, After The Whistle Hockey Magazine from a hockey referee in the UK. It shows that the problems we face in North America are also being felt around the world.

Hi After the Whistle,

I'm an IIHF level 3 referee in the UK and thought I would share one of my worst game experiences with you.

Well it all started when I was refereeing a U14's South Group A game in Cardiff , Wales. It was a close game until mid 2nd period when the home side started taking silly penalties. Things started to get a little heated as the home side lost their 1 goal disadvantage and increased it to a 3 goal one. Play was in their defending zone and an attacking player had the puck. As he went to pass it, a defending player trying to gain control twisted and fell.

Now to me it was easy to see the player in question wasn't getting up in a hurry but wasn't badly injured, so I let play continue as the home team had possession. The player in question had to be helped from the ice by his coach. There was no problem at this time because the player was not from the home side and the home team was able to continue with the play.

Later on in the game the home side was on a 5 on 3 play and sure enough were dominating play with the 2 man advantage.

As they were breaking out of the their defending zone an away player skated hard and tripped hitting his head hard on the boards. Now there was no plenty to call as I'm sure there is no tripping plenty for tripping yourself. The player hit the boards with such force you heard it all over the rink. It was obvious to everyone that this player had done himself a serious injury. Even though the home team had possession of the puck and the injured player was from the visiting side, I stopped the play immediately because I suspected a serious injury.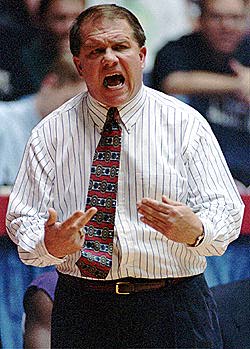 The home coach went mental and started shouting all sorts of things across the ice.

He then picked up an ice pack and threw it across the ice to which I had to duck to avoid.

Now I know we all get a little annoyed at times but to lose it that much who knows why, especially when he had gained an advantage earlier from his player falling badly.

I had no choice but to assess him a Match penalty for Abuse of Officials. The problem was he went even more mental and on his way off the bench threw a chair on the ice as well. In the end he had to be ejected from the building by rink staff - not much of an example to kids really.

In his defence to the league he said "play should never be stopped for an injury";

Now don't know which rule book he's read but the IIHF 2006-2010 one says different.

416 - INJURED PLAYERS

a) If a player is injured and cannot continue to play or go to the bench, the play shall

continue until his team has secured possession of the puck, unless any team is

i

n an immediate scoring position.

b) If a player other than the goalkeeper is injured or compelled to leave the ice during

the game, he may retire and be replaced by a substitute, but play shall continue

without the teams leaving the ice.

c) If a penalized player has been injured he may proceed to the dressing room, and

if he has been assessed a Minor, Major or Match penalty, the penalized team shall

immediately put a substitute player on the penalty bench who shall serve the

penalty without change, except by the injured penalized player if he is able to return.

d) The injured penalized player shall not be eligible to play until his penalty has expired.

e) If an injured player returns to play before his penalty has expired, the Referee shall

assess additionally to this player a:

➤ Minor penalty (2')

➤ 1. If it is obvious that a player has sustained a serious injury, the Referee and/or the Linesman shall stop the play immediately.

➤2. When play has been stopped due to an injured player, excluding the goalkeeper,

the injured player shall leave the ice and shall not return to the ice until

after play has resumed.

So not only was I correct in my 1st call to let play continue until they gained possession. But I was correct in my 2nd call in that not only had the player sustained a serious Injury, they were in a scoring position.

If anything is going to come out of this it's maybe that before players, coaches and fans go mental at us referee's maybe they should spend a little time and study the rules. Yes we make mistakes but we are only human but I'm the 1st person to admit when I'm wrong so maybe they should to.

Happy hockey and lets all work together to a cleaner more fun game for players, fans and us officials

Adrian Neilly
Cardiff UK
Czech International Hockey Camp
Dear Hockey Friends,
I checked your website, it is looks very good. I would like to ask you for adding our website information (Czech International Hockey Camp -
www.hockeycamp.cz
) to your Hockey Links.
Please let me know if it is possible.
Thanks for your time. I am waiting for your answer.
David Cisar
Director of
Czech International Hockey Camp
phone: +420 605 403 213
Hi,
I want to congratulate you for your great work! You have a really nice
web site. Lots of good stuff. I like to read it even though I'm with
Hockey Québec. I'm from the Québec city area I'm a level 4 referee of 15
years. Thanks for the infos!

MARC TANGUAY
Hi: I'm a referee out of the Hockey Manitoba area and I have a question for you. Player seven from the black team drops his stick in his defending zone. Play moves out of black zone into white's zone. On the way out, seven black legitimately retrieves a replacement stick from a player on his player's bench. Play then moves back down the ice into black's defending zone. Seven black drops the replacement stick he received legally at his players bench and picks up his other stick still lying on the ice. Is this a legal play and if not, what is the penalty to be assessed? I have been told that this is not a legal play but have not found any thing in the rule book to tell me otherwise. Your help in this matter is most appreciated. Tim Wagner
Hello
This is just a quick note to you and your editorial team.
I am a Level 3 official in Alberta, I also am the referee assignor, treasurer, and parttime RIC in our local community. I have been around the game since I was about 8 and have a huge passion and love of the game.
I have found your website through a friend and I just wanted to send my congratulations and support for your website. I find the articles are very informative and useful.
We also experience the same problems that you point out in your articles.
Keep up the good work
Rick Oberten
High River Referee Association
Referee Assignor and Treasurer
Cheers to the Kirwan's for an excellent web-site! Finding a place to vent is amazing! Having read several comments from other readers and your reasons for creating this site I have decided to make just one comment myself. Minor hockey is fantastic for everybody, but referees are the only ones who receive a pay cheque at the end of the game. I firmly believe this places them, no matter their age, with the responsibility of calling a fair, impartial and controlled game. Accountability comes to mind. As consumers we have the right to complain if a service is unsatisfactory. Referees should be subject to accountability or be volunteers like coaches, trainers, managers or pay to play the game like players. Fortunately, the majority of our sons' experiences with referees have resulted in well-called and controlled games. Thankfully, there are impartial officials out there who take their role as it was meant to be taken. For those few who think it's funny when they disrespect their own position and abuse their authority--you need to consider leaving your cheque for the next referee who's responsible! Better yet, if you can't do a good job and a job is what it is--don't do it at all. Thanks for the opportunity to speak my mind!
Susan Wain
Thank you for your comments, Susan.
You make some excellent points.
Take care.
Robert Kirwan
Publisher
After The Whistle
Would you have any information on the pros and cons of AAA hockey under the age of 12.
We find many parents in our community wanting to make the AAA jump even though there son is not ready. They have this notion that its better instruction and there son would devolpe quicker. E have parents leaving a top A team contending for an All Ontario or Regional championship to a bottom feeding triple a team. I remember reading an article o couple of years ago stating that most OHL and NHL players come from BB centers and under.

It is my understanding as well as many ex and current NHLers that are involved in our association that a player especially under the age of 12 should be playing with there home town as much as possible. Do not make the jump unless you absolutely dominate your level and are a star a year above. It supposed to be fun game first, a game played with your friends and hopefully playing for your community , your skills will develop especially if you play in an atmosphere were it is not stifling your creativity.

Will Germinario, Coach
The short answer...who knows?
It all depends on what your long-term goals are with respect to your son's hockey career.
Players will only get better if they are challenged - however, there is a school of thought that says that self-confidence and the ability to develop creativity comes only from exceling at your particular level. Is it better to be a small fish in a big pond? Or is it better to be a big fish in a small pond? I think the big fish in the small pond will be noticed more quickly that the small fish, even if the small fish is better on a skill for skill basis than the big fish.
Hockey is always more enjoyable for the "first line players" than the third line player. I was a "bench warmer" on a championship team and I felt "nothing" because I contributed nothing. Yet, when I was on a losing team as the top player, I felt very proud of my accomplishments.
If your son is "good enough" he will be "discovered" wherever he plays. The main thing is for him to have fun and develop as a "complete person", not just a "hockey player". Whatever happens in the future will happen.
Just keep in mind that you will give your son just as much chance of landing a pro contract if you help him develop his "boxing skills" as his "puck handling" skills. Teams today only need 4 or 5 goal scorers. They need at least 10 grinders and fighters.
Good luck.
Robert Kirwan
Publisher
After The Whistle
My name is Brenda Vale. I have just begun the job of Treasurer of Frankford & District Minor Hockey Association.
Last year FDMHA suffered from the worst registration level in its past. We had 101 children from Tyke to Juvenile. He unfortunately had no novice team and had to split a bantam team with a nearby centre.
We have a complete new Executive and with new enthusiasm have completed our unprecedented early registration. We advertised the 4 day registration, plus sent a letter to each and every participant over the last three years. We ended up with a disappointing 51 children registered. And although we have 8-10 players in each age division, those 8-10 kids are not on the same competitive levels. Do you have any suggestions on how we can entice new kids to hockey and increase our registration?
Thanks for your attention,
Brenda Vale
Hi Brenda:
There are a lot of factors to consider in your situation. First of all, where is Frankford and what is the closest major city?
Minor hockey is going to suffer a decline in most jurisdictions in Canada and the United States over the next few years. The main problem is that while the professional ranks paint a pretty rosy picture of wealth for talented young players, the reality is that most young parents are beginning to realize that hockey is one of the worst forms of recreation anyone can imagine. Now, don't get me wrong...I love hockey and all of my sons went through high levels of hockey until they reached high school age. Then they decided to play high school sports and referee hockey. Refereeing hockey is one of the best forms of training a person can get. It is a great way of preparing for just about any career.
Back to your problem! Consider the fact that when one of your children is in hockey you are faced with the following. In order to bring you child to a game that starts at 7 p.m., you have to make sure that you finish eating dinner by 5:30 and be in the car on the way to the arena by 6 p.m. If you have younger children, they must come to the game with you. This means that everyone must drop everything else they would like to do at 6 p.m. and you won't return home again until at least 9 p.m. if it an hour long game, or 9:30 p.m. if it is an hour and a half game. Everyone in the family will spend up to 3 1/2 hours watching one member of the family get on the ice for a total of about 20 minutes during that time period, and if he is lucky, he will actually touch the puck for perhaps 1 minute in that entire time frame.
Young parents are beginning to realize that there are forms of recreation where everyone can participate for the entire period of time instead of becoming spectators.
What minor hockey must begin to recognize is that young parents understand that the chances of their children going anywhere with hockey is a long-shot at best. As well, hockey has developed a very negative image which must be erased before new people are going to get on board. We won't even begin to discuss the financial cost of the game.
It is no wonder that you are having problems with registrations. The fact that you did not have a novice team proves my point.
Your new executive and your new enthusiasm will not be enough to entice new registrants in this negative climate. And the low registrations will serve to keep people from joining up. It may be time to merge with your nearby centre in order to combine forces and provide hockey for those people who still love the game and are willing to pay the price. This may not be what you want to hear, but if two weak organizations can join together to form one strong organization, it is much better for all participants. Hockey is still a great game...but there are so many other options for children and families to consider that there is going to have to be a whole strategic marketing plan developed across the continent in order for us to see a turn around in popularity.
I know I haven't helped you much, but you may just have to face the fact that the numbers are not going to be there in Frankford. Join up with the other centre for a few years and see what happens.
Good luck.
Robert Kirwan
Publisher,
After The Whistle
I discovered your website by mistake yesterday & would like to thank you for
instantly making me a better coach during the half hour i viewed it.

I am a coach in Nottingham, England and although in coaching camps we are
made aware of the implications when yelling @ kids etc, i didn't realize its
a wider topic than it first appears. Your sections/stories have opened my
eyes to the feeling that abuse from coaches & parents is simply not just
'black & white'. There are many situations surrounding the abuse & the
reasons behind the attack. We have to look @ the individual players targeted
& accept they have unique personalities in that some kids will respond to
a 'verbal kick up the butt' whereas others require a little tact.

I'm lucky so far that the problems i've had in my career have been minor but
upon reading some of the articles i feel mentally more comfortable that i've
learned a little more about coaching but more importantly, i will never end
up like some of the examples. The longer i spend being involved within the
sport, i think the tactical side to the role is easy compared to the
'man-management' side.

I don't wish to preach to fellow coaches, because for every bad example, you
have 10 or more truly dedicated individuals but this is my little piece of
advice:

It may take 1 minute or 1 season to build a young athlete's confidence
through some kind of praise, BUT ON THE FLIP-SIDE, IT MAY TAKE 1 SENTENCE OR
1 ACTION TO DESTROY ANY KIND OF CONFIDENCE THAT THE KID MAY HAD!!

1 last thing, my son is Daniel Ashmore, he's 5 years old & plays in 'The
Stanley Cup' every Tuesday when he trains with his first team (u10's). I
hope that he continues to live his dream every time he comes to the ice -
That is what i want him to get out of the sport, anything else is a bonus.

A C Ashmore
Nottingham
England
Good afternoon. I found your website by luck when searching for the letter "Why I quit hockey". I then read a number of your editorials about the actions, reactions, etc of parents and players.
What I'd like is your opinion on Coaches who yell, intimidate through yelling, belittle through yelling. All of this being done in the hopes of motivating the players. My son's Pee Wee B travel Coach actually threw his stick down on the ice during practice and proceeded to have a tantrum! All because he did not like the way the boys were doing sprints at the end of a long practice.
While some parents behavior in the stands and in their cars on the way to and from a game needs to be brought under control, what about a Coach who does not know how to motivate, instill respect of his players?
Rosemary Capozella
Editor's Comment
Your concern is genuine, Rosemary. While I always defend a bit of yelling or raising the voice to put a point across, there is a line that coaches must not go beyond. Unfortunately, we have a lot of coaches who should not be around kids. You may have come across one of them. I taught school for 28 years, and there were times that I had to raise my voice in the classroom. There were also times on the ice as a coach that I had to do a lot of yelling. But I always told my fellow teachers and coaches that it was fine to yell as long as you never lost control of your anger. If you were doing it for "effect" that was fine. But if you were doing it out of anger, then you should quit and do something else.
As an Australian parent of a bantam I read so much about Canadian hockey. My son is in love with the sport, however in Australia equipment is extremely expensive, highly skilled coaches almost non existent and competition from other sports very high as we live in a semi tropical climate where surfing, cricket and football rule. We have 4 ice sheets in the state, though comparatively lucky to other states some of whom have one sheet my son would love to live in Canada.
As parents, we saw he loved ice hockey so much we saved hard and let him go to Vancouver in November 2003 for 9 weeks by himself to learn more about the game. He was invited to train by a number of coaches and team managers however the local association said no way. He understood all along he would not be allowed to play competitively, but all he wanted to do was learn and train with other kids.
He returns home shortly extremely disappointed, and broken hearted. No doubt he will be a hockey statistic - why did he quit? Why couldn't he be allowed to learn more?
Bernie Upton
Our first meeting of the season our coach told us the same thing our coach (from the same club) told us last season -

"We are not a dump and chase team. We focus on passing and stick handling. We will focus on practices. As for games, well, we let the kids play some games to keep the parents happy but that's not our primary focus - its practices where we learn".

In games our kids are required to pass or they sit a shift to remind them to pass. They are not allowed to dump and chase or they sit a shift to remind them of the coaches. They are always instructed to carry the puck out. Sometimes this costs us games, especially against teams that play heavy defense. If the kids learn their skills and handle the puck at the
young ages, they still have plenty of time to learn the defensive skills that will assure a winning team but may not develop the players to their best level. Sometimes it also results in more shots and goals on our goalie, but as they age up it really improves their performance in total.
Sharon Kilborn-Keeney from Southern California
Here is a tip for young referees.
Look guys, don't be on any teams side. Be referees. That is impartial. It doesn't matter if one team is a thousand times better than the other. Don't try to make up the imbalance by calling penalties. Call as they occur. Nothing more -nothing less. Let the coach handle the situation if the player has cost the game. If you try to even up a game by calling one sided penalties, that's called cheating and we in minor hockey don't need that.
Robert Larocque
I watched hockey religiously during the 1970s and 1980s and am a huge NY Islander fan. I appreciate when referees and linesmen call a great game especially when under some tough conditions. I enjoyed watching games when Dave Newell called because I knew he would call a great and fair game. I watched his 1000th game in the old Montreal Forum when you were honored, and would like to see you elected to the Hockey Hall of Fame since you deserve the ultimate recognition. Thanks Dave for all those years of skating up and down the ice.
Drew Tenny "Hockey Fan"
I would like to commend you on your great website for providing a forum whereby the positive aspects can be voiced about what the games participants get to enjoy. I was recently fortunate enough to attend a workshop on Ethics in Sports given by Dr. Robert Butcher. He provided some very interesting perspectives on the game. He calls sports very strange. For example in golf, the objective is to put balls in cups. We then set up a set of rules that make it more difficult to put the balls in the cups and then make us use sticks...and we love doing it. The major point that he made was that the game is defined by the rules. We play it for the intrinsic value of playing it and the score is a measure of how well we play it. Therefore it is important to respect the game, the rules and the opponents. Upon this concept is the fundamentals of fair play. We want the opponents to play great because we want to kick their butt as a measure of how well we have played. So, we need to get it right because the default is getting it wrong.

In New Liskeard we have an active Fair Play program and we are striving to get it right. We have developed a picture of what we want. We want the kids on the ice playing the game and playing as hard as they can and being as competitive as they can. We don't want coaches shortening the bench. We want all kids to get the opportunity to play in critical situations. We have been at it for two years and the concept is coming. The people against it are gradually going away.
D'Arcy Ryan from New Liskeard
If you are looking at the lighter side of officiating, take a look at this photo>>>>>
THIS IS OUR GAME?…
At one point during a game, the coach took one of his 10 year-old hockey players aside on the bench and asked:
"Do you understand what cooperation is? What a team is?"
The little boy nodded in the affirmative.
"Do you understand that what matters is whether we win or lose together as a team?"
The little boy nodded yes.
"So," the coach continued, "I'm sure you know, when a penalty is called, you shouldn't argue, curse, attack the referee, or call him an idiot.
Do you understand all that?"
Again the little boy nodded.
The coach continued:
"And when I take you out of the game so another boy gets a chance to play, it's not good sportsmanship to call your coach 'a dumb moron' is it?"
Again the little boy nodded.
"Good," said the coach.
"Now go over there and explain all that to your parents."
Submitted by Dieter Doederlein
Mr. Kirwan I play midget AAA in the GNML and I honestly do believe that fighting would eliminate the stick work, and the cheap shots in hockey today. If you know that you are going to get punched out you wont act like a big shot, cause you cant. You just have to stick to the game of hockey. I'm not a tough guy nor am I the toughest in the league, but I would fight anybody who laid a cheap shot on me or anyone of my teammates so they know what not to do the next time. Denis
Marty ,only one way to handle overbearing parents or anyone who is disruptive at a hockey event is to call the police and let them handle it ...even if nothing is done ,it may cause some red faces in the crowd. They don't pay volunteers enough money, or respect to be policing peoples behaviour...also officials in my opinion should call a game on the spot, if there are any signs of uncalled behaviour at any time before ,during or after a hockey game .Time to quit talking about it, and time to take some action..............
thanks for reading my rant ,and have a nice day ..........Jiggy from Walden, Ontario
Hello Marty & Warren...
I just had to email you about your web site "After The Whistle"... This is just one fantastic web site, it is really great. You have a great deal of information for players, parents, coaches and referee's. I really like the Inspirational Stories, You Make The Call and Game Experiences. I am a high school hockey coach with the Hudson Valley Hockey Association and I have been coaching since 1987. I am always looking for information to help me be a better coach and your site is one that I will come back to again and again. If I hear of any good hockey stories I will forward them too you.
I am going to add your site to our hockey links to help spread the word about After The Whistle. Maybe you can add our web site to you links page, http://www.eteamz.com/hvha Please stop by and check our site I am sure you will find it interesting and informative. And don't forget to sign our guest book, we welcome all comments and suggestions.
Regards, Coach John Wilson
We went to a game yesterday. Our team was playing one in the league that hadn't won a game all year, and really only had scored two goals all year. Our game wasn't any different. The score was 5-0 for our team. The attitude of the fans, the parents and friends in the stands was what stood out brightly... The goalie was excellent! The parents and friends in the stands praised every save he made! Whistles, bells, and applause for his every save! From both team fans! Something for which we all can be proud! In that way the team and their fans were winners too! The attitude of the team was excellent too... Something to be proud of ... We did win the game but... They were winners too.
Joy Hoskin, Dartmouth, Nova Scotia
I have been coaching my boys for three years now. Two teams per year keep you busy, but it is for the pride of watching my boys and the other players improving game by game and practice by practice that keeps me going.
As a coach, you are a leader to your players, whether that's the way you mean for it to be or not. If you yell, scream, and make gestures to the referees, the players think that is how they should react. If you do not understand a referees call, request they come over to explain. Talk to them as you yourself would like to be talked to. If you do not agree with their call tell them and get on with the game. If an appeal is in order, there are procedures to follow. There is no reason to yell, scream obscenties, belittle, or try to intimidate a referee. The coaches and parents that do should not be welcome in hockey.
This is for fun. When it stops being fun, find something else to do that is.
Gerry Savage, Cumberland, Ontario
Tom King is the coach of our Minor Midget Rep B Team in Orleans, Ontario.
He and myself as well as the other coaches created a set of ground rules with player input as early in the season we were having a problems with penalties and we were on a losing streak.
After agreeing and implementing the rules we have been on a serious winning streak winning approximately 21 of our last 23 games including two key tournaments.
One of the key rules is about taking stupid penalties, e.g. retaliation penalties, mouthing off to ref / linesman etc. The penalized player upon returning from the box does not have the liberty of returning to the ice but must sit through at least one cycle of shift, perhaps two. Thus the player knowing that a stupid penalty that hurts the team that he will be doubly penalized as his penance to the team. This has started to bring the team together. Also, bad mouthing teammates and coaches etc will also result in benching through one or more cycle of shifts.
Since instituting these rules our penalties have gone down significantly the players are having a more fun and enjoyable time and we are winning as a bonus.

Kevan Ladd and Tom King
Hello I am from Georgina Minor Hockey Association Houseleague division and more often than not I see and hear parents in the stands almost every game my son goes out to play. Parents yelling and screaming at their kids to skate harder to pass the puck more to get off the ice when they get tired. After the game has ended I see many boys come out of the dressing room with tear stained faces over a loss or a bad play and it's sad to see. A game that is supposed to be fun and not about how many goals each child scores but about them out there skating their hearts out having more fun than they having doing anything else. Each year I see less and less of the boys that have played on teams with my son and when I ask my son why they don't play anymore? the answer is usually the same. "It's just not fun anymore"
Heidi Chapman
My son recently recieved his second concussion in seven weeks (both from illegal hits to the head, that were never called!!!)...We listened to the doctors, and kept him out of play for 5 weeks. Until the refs start calling things, there will be more concussions. My son, is a good, clean player who has played hockey since he was 5. He has given up all other sports to play! Now he is done playing hockey forever and is suffering from confusion, exhaustion, dizziness!!!
I love hockey...but it is out of hand...a wonderful sport that takes great talent, when kids play by the rules!!!!

Margaret Pinnel
Margaret:
I agree with you totally. Checking to the head must be called. So too must hitting from behind. Many hockey administrators and board members will disagree with me, but I feel that the real problem stems from the "automatic" penalties when you make those calls. If the referee was given discretion to call a minor penalty, then you would see more of these infractions called. Right now, a lot of kids "fake" injuries or "dive" when hit. Once the referee makes the call, the 'victim' gets up laughing, knowing that he just got someone kicked out of the game. Senior referees don't like to get embarassed and so they tend to turn the other way to avoid "seeing" similar infractions.
Another problem is with the "appeal process". A referee who makes a serious call like "checking to the head" often finds himself trying to "defend" his call to his superiors. Coaches, parents and players often "appeal" suspensions and turn the focus on the competence of the referee. Once again, senior referees soon learn that it is far less stressful simply to "let the game go on".
If this continues, you won't have to worry about your son getting injured in hockey. There won't be anyone to referee the game and therefore the games will be cancelled. Perhaps that is what is needed in order to "clean up the game".
Thank you for your comments.
Robert Kirwan
After The Whistle
I just discovered your site and I'm really happy I did. You guys have a great sight and should be viewed by all officials. I just thought it was appropriate to let you guys know.
Level IV official NBHOA
New Brunswick Hockey Officials Association
Thank you for your kind comments. I am glad you like what we have done.
Thanks again. Good luck with your officiating.
Robert Kirwan
Publisher
Just a note to the Dad from Kelowna who has destroyed an 8 yr old's love for hockey. No, he wasn't a great player, but then he only learned to skate this summer, and doesn't yet have the stamina or balance or knowledge to play at the NHL level. however, he was gradually gaining confidence in himself and the game, and becoming more comfortable with his coaches and teammates. you see, this little guy has poor eyesight, and no strong male role model. he comes from a "financially challenged" family, who are trying hard to instill some good self respect and ability to face new challenges in him.
So, are we teaching children that winning is the ultimate goal, or that hard work and good fun are more important in life? does it really matter that one player is weaker, or do we learn to help others and ourselves become better people, and more proficient in the game of life??
As a true Canadian hockey fan, I am feeling really sad at this time. my belief is a good game is a show of hard work and ethics, yes, it's nice to be on top, but even better to be respected for having great ethics and pride in one's self and team and friends and family.
You, Dad, deserve a lump of ocal this year, and your son deserves a lot more respect from you. And to the rest of you good hockey people, Best of the Season.
First all let me thank you for posting my son's article. It always amazes me how smart our kids are and how they acknowledge what's happening around them at such a young age. I read the article about the young boy who quit. It saddens me to hear something like this could happen, but I see it in almost ever rink my son's rep team plays in. My son has always been the leading scorer of his house league teams and now he's just an average rep player. My son feels like he's in the NHL now. Its not the big leagues but he feels like it . I never get mad at him for hockey. I just thank God that he is having lots of fun and so is his old man. It's too bad that to many parents ( fathers mostly) try to live a dream through their kids. The odds of my son ever making pro hockey are so slim. I love my son very much. I don't care what he plays - house league or rep. All I want for Christmas is for my 5 kids and my grand-daughter to have a healthy and safe life. Some kids in third world countries will wake up on December 25th hungry and not even know its Christmas. Then we have the parent whose son isn't as good a rep player as they were house league and they can't understand why . To that parent, just be happy your child is alive and loves you unconditionally - not for your parent skills.
Jim Lowes; Burlington, Ontario
P.S. Thanks for the good work your site does for the sport of hockey.
You have a great website which I believe will help improve the Minor Hockey image in Canada. I grew up in the minor hockey system some years ago and have a father that played in the pro's for 16 years. Both my father and I agree that the game is slowly slipping away from a players game to a parents game. I have also refereed for 2 years and was totally blown away on the reactions from the spectators. I experienced a 12 year old lineman in tears because he was continuously heckled for a bad call, I'm sure this person never refereed another game. I see it time and time again. I'm coaching for the first time this year and wow, there is no shortage of opinions, but when you are in the dressing room with just the kids it becomes a fun happy team environment. I will continue to visit your website and will also be an advocate to give hockey back to our kids!
Best Regards; Coach Atom 5, Calgary
I have been coaching hockey for 25 yrs ,being a referee can be a thankless job especially if you call the game literally by the book no emotion, no feel. Those are the games that seem frustrate most fans, coaches and players .the rules are open to judgement ,because of the speed and physical components, a good official requires an understanding through experience , common sense and communication . Referees that talk to players during the game and also talk to coaches when they raise an issue have far less problems than those who take the opposite approach .Hockey is a great game officials officiate, players play ,the fans want to see the game played not an endless stream of whistles with the ref in the spotlight
Peter: from Kamloops B.C.
"I'm getting tired of watching coaches play games with referees. They wave their hands and make all sorts of gestures which get the players and fans riled up. Some referees have enough courage to give those coaches game misconducts and get them right out of the rink, but we need more referees like that. If someone wants to play games like that they shouldn't be coaching young kids. We come to watch the kids play - not the coaches".
Fed up: from Sudbury, Ontario
"Every referee reads from the same rule book. If referees would simply call by the book and show more consistency, players and coaches would be required to accept that standard and abide by it. I think that until all referees think and act the same way and administer the rule book the way it was intended, we will continue to see problems on the ice, on the bench and in the stands. Nothing in this world is consistent any more. We don't need to see this on the ice."
Sam: from Newmarket, Ontario
Sam, please excuse my sarcasm but perhaps we could start cloning Marty Kirwan, Paul Stewart or Kerry Fraser would that help? We do all read the same rulebook but unfortunately we are all human and we interpret some rules differently from province to province, city to city and even referee to referee. With 86 rules and approximately 355 subparagraphs (I was bored one night) you will never ever get different referees to call the same penalty on different situations. Game management has alot to do with it. I find this is a term that most coaches and parents have never even heard of.
Notwithstanding this we are expected to arrive at the rink and have our best game night in and night out. I will tell you a little story: The other night I was reffing a Midget playoff game. I am in the military and I still had my uniform on when I got to the rink, I just finished a 12 hour day. I was in a pissy mood. Was my game consistent from the night before? No way. Was I consistent throughout the game? Yes I was. Everytime I called a penalty and the players voiced their opinion going to box I gave them another Minor penalty for Unsportsmanlike Conduct. I did this about 4-5 times. You would have thought they would have gotten the message after the first two times but I guess not. My point is, players go in slumps and have a bad game because there girlfriend broke up with them before the game or whatever the reason. Officials have lives, careers and spouses, we have off games. Believe me you do not have to remind me when I am off because I know it well before the fans. Thank you.
Greg Snyder
You couldn't pay me enough to be a hockey referee. It has to be the most thankless job in the world. Even a fan who has only seen one or two games in his life will start yelling at the referee if he doesn't agree with the call. Why people go on the ice and take that abuse is beyond my comprehension.
Jim: from North Bay, Ontario
I have coached minor hockey for thirty years. In that time I have seen some good referees and some bad referees. For the most part, they do their best. But all you need is one bad apple and everyone is ready to jump all over him and paint all other referees with the same brush. If you accept the job as a referee, you have to expect that you are going to be under the microscope all the time. It goes with the job.
Mark: from Windsor, Ontario
If you would like to respond to one of the comments below,
or if you have your own opinion to express,
submit it here.