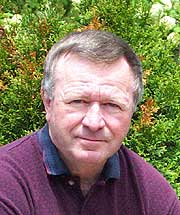 It is my pleasure to introduce you to the people who are largely responsible for the content of this web site. While much of the writing was done by myself, the background technical information was obtained from my two sons, Marty and Warren Kirwan, who you will read about in the section below.

Our goal was to develop a hockey site that would both inform and inspire fans and students of the game of hockey. We feel that the more you understand the "spirit of the rules of the game" the easier it will be to understand what officials are going through on the ice. That will lead to more enjoyment of the game.

We hope you enjoy After The Whistle.