We have to warn our readers that what you are about to read may be disturbing if you love hockey and have compassion for the feelings of young players. This is about how one very caring man, Coach Paul Hobly, made the 2002-2003 hockey season a year of growth and development for a young boy named Koyde Lowes. It is about what nurturing and caring is all about. It shows that hockey can be the tool which brings out the best in young people and helps them grow into responsible young adults. The story is also about how people who are in charge of hockey sometimes make decisions which are hard for children - or adults for that matter - to understand. It is about how adults sometimes forget that their decisions can often have a devastating impact on the lives of young children. After you have finished reading the following article, we would certainly like to hear your comments.

FIRST OF ALL....
We are going to let you read an editorial submission that was sent to us by Coach Paul Hobley.
LACK OF RESPECT IS WHAT IS
WRONG WITH HOCKEY TODAY
Editorial submitted by Paul Hobley

FIRST OF ALL I THINK YOUR WEB SITE IS WELL OVER DUE.

HOCKEY PEOPLE ARE THE BEST PEOPLE IN THE WORLD.

I JUST THINK THE FEW APPLES MAKE THE REST LOOK BAD.

ONE OF MY PLAYERS WROTE IN ABOUT ME BEING THE COACH OF THE YEAR FOR THE WAY THAT I TREATED HIM AND THE REST OF HIS TEAM MATES.

I ONLY TREAT THEM THE WAY I WANT THEM TO TREAT ME. (WITH RESECT).

I'VE BEEN INVOLVED IN HOCKEY OVER 30 YEARS.

PLAYING MINOR HOCKEY FROM PAPERWEIGHT TO MIDGET.

COACHING OFF AND ON OVER THE LAST 20 YEARS IN BOTH BOY'S AND GIRL'S HOCKEY. ( REP AND HOUSE )

GROWING UP IN A HOME WHERE HOCKEY IS A WAY OF LIFE.

MY FATHER COACHED ME AND STILL GOES TO ALL MY SON'S AND DAUGHTER'S GAMES. ( PROBABLY 120 TO 150 GAMES A YEAR )

OVER ALL THAT TIME I HAVE MET SOME BAD BUT MOSTLY GREAT PEOPLE. ( HOCKEY PEOPLE )

THAT BRINGS ME BACK TO THE MOST IMPORTANT THING RESPECT .
YOU CAN WRAP UP ALL THE PROBLEMS IN HOCKEY TODAY IN ONE PACKAGE. LACK OF RESPECT .

IF YOU AS A PLAYER DON'T WANT TO GET HIT FROM BEHIND THEN DON'T YOU DO IT TO SOMEONE ELSE.

IF YOU AS A PLAYER DON'T WANT TO BE HIGH STICKED THEN DON'T YOU DO IT TO SOMEONE ELSE.

THE SAME APPLIES TO PARENTS AND FANS DON'T ANTAGONIZE THE OTHER TEAM AND YOU WILL NOT BE ANTAGONIZED.

IF YOU THINK THE COACH IS NOT DOING WHAT HE OR SHE SHOULD BE, GIVE IT 24 HOURS AND DISCUSS IT.

TO COACHES TREAT THE REFS WITH RESPECT AND THEY WILL RETURN THE FAVOR.
IT'S FUNNY THAT THE PEOPLE THAT COMPLAIN THE MOST ARE THE LAST TO OFFER THEIR ASSISTANCE ON OR OFF THE ICE.

I LEARNED A LONG TIME AGO THAT PARENTS ARE THE ONES THAT HAVE TO BE BABYSAT

IT'S STRANGE THAT LITTLE JOHN'S OR LITTLE SUSIE'S DAD KNOWS EVERYTHING BUT CAN'T SKATE PROPERLY AND WILL NOT LEND A HAND WITH THE TEAM. (ON OR OFF THE ICE)

WHEN I COACHED HOUSE LEAGUE I WOULD INVITE A (PROBLEM PARENT) TO HELP ON THE BENCH FOR A GAME , FUNNY ENOUGH, MORE OFTEN THEN NOT, THAT PARENT WOULD BECOME A STRONG SUPPORTER OF THE COACHING STAFF IT'S THE WALK IN MY SHOES APPROACH.


WE START COACHING THE KIDS YOUNG, MAYBE WE SHOULD START WITH THE PARENTS YOUNG.

THE GAME OF HOCKEY IS LIKE HOCKEY. YOU ONLY GET OUT OF IT WHAT YOU PUT IN.
| | |
| --- | --- |
| | IF YOU PLAY HOUSE LEAGUE PUT IN 100% |
| | IF YOU PLAY" AAA" PUT IN 100% |
| | IF YOU'RE A STREET SWEEPER PUT IN 100% |
| | IF YOU'RE THE PRIME MINISTER PUT IN 100% ( HA HA ) |
THE BOTTOM LINE IS IT IS THE GREATEST GAME IN THE WORLD AND ENJOY IT FOR WHAT IT IS, THE GREATEST GAME IN THE WORLD.( BE A FAN )
THANKS
PAUL HOBLEY (COACH OF THE 17 GREATEST HOCKEY FANS )

Hats Off To Coach Paul Hobly of the Burlington Minor PeeWee Bulldogs "A"
Without Question "Coach of the Year"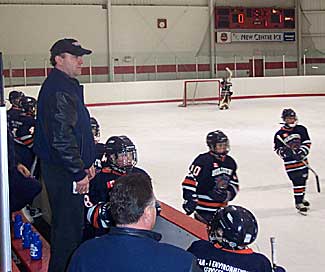 When we received the following letter by 11-year old Koyde Lowes, we weren't sure where to place it on the site, but I am sure that all of our readers will agree that it is one of the most inspirational stories they have ever seen. With all of the problems facing minor hockey today, it is truly wonderful to hear about the coaches who are in it for all the right reasons.
We tip our hats to Coach Paul Hobly of the Burlington Minor PeeWee Bulldogs "A" club. By the time you get through the following letter, you will truly understand what this fine game means to the hundreds of thousands of children who just want to have fun.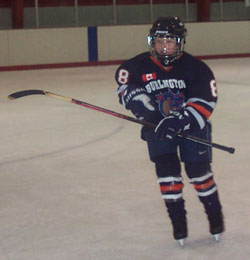 My name is Koyde Lowes. I'm 11 years old and I'm living a dream I've always had.
For the first time in since I've played hockey I made our rep team in Burlington. Were called the Burlington Minor Pee Wee Bulldogs ''A''.
Is it ever fun going on the road to different cities and sometimes we get a motel. To me this is just like being in the NHL. We travel, we eat together, we practice a lot and we have fun together.
Our coach has to be the best coach in the world. When we play other teams I see other coaches yelling at the players and sometimes I walk by a dressing and hear coaches getting mad at their players. The rep team I'm on has not won a league game in over 2 years. We did tie a team 2-2 the other day, boy was that fun.
This is the first year this coach has coached this team. His name is Coach Paul Hobly. He will not win coach of the year, but he will always be coach of the year to me.
He has not only helped me improve my hockey skill , he teaches me life skills. He has shown me that there is more to life than just hockey. Every time we lose a game, he makes us feel good about ourselves, never yells at us. There is always laughter in the dressing after a game. Boy I'm having fun.
He has told us to do good in school and school is more important than hockey. Behind the bench, he s really cool. Points out our mistakes when we come off the ice and then gives us a pat on the back. I never knew losing could be this much fun.
We're hoping we can improve the 2nd half of the season and show my coach that we appreciate the time he gives us. Its not easy for a coach to coach a team that loses all the time. Most coaches wouldn't even consider coaching our team, but our coach did.
Coach Hobly you will always be coach of the year to me.
Koyde Lowes
Burlington,Ontario
Coach Paul Hobly, on behalf of hockey fans all over the world, let me congratulate you for remembering what the game is all about.

You definitely are Coach of the Year!
Koyde Lowes was on top of the world earlier this year. If you want to know what is wrong with hockey in Canada today, read the letter that Koyde Lowes wrote to After The Whistle in March. The title below is the one which was found in the subject line of Koyde's email.
COACH OF THE YEAR - GONE
My name is Koyde Lowes and you put a article on your web site I wrote about my coach Paul Hobley. This week was one of the saddest weeks I've ever had, My dad told me that the people running the hockey league in Burlington are not letting Coach Paul coach the team next year. We didn't end up winning a game and so they let him go. 4 years 4 different coaches.

He was a good coach who taught me a lot. I guess every year they will get a new coach, why? We try to win and he teaches us to have fun. He taught me to do good in school, my last 2 report cards were the best marks I have ever had in 6 years of school. I get a long better with my teachers, he taught me to respect my teachers and my parents. He had me enjoying getting dress pants, shirt and tie on for hockey.

When I would feel bad about a play I would make on the ice, he would tell me what to do the next time and say don't worry about it. In house league my dad was always waking me up for practice, now I'm waking my dad up because I don't want to be late . I'm a better hockey player and person since the beginning of the season, due to great coaching from Coach Paul.

I don't feel good inside right now, he wasn't only my coach, he was my friend. I don't even know if I want to try out for Rep next season. My dad tells me that Coach Paul would want me to try out and he would want me to work hard.

If a city is looking for a great Rep coach for 12 year olds next season ,Burlington has the best one in the world and I would come to your city to play. We would make it fun. My dad says that if Coach Paul was let go for losing than my dad doesn't mind being called a lose and so do I.

Coach Paul, no one can take away the fun you gave me, the laughs we had, the hockey skills you taught me and most of all the friendship we had for each other will last in my heart forever.

I would like to say more but its 10 o'clock and dad says its time for bed.

Your Friend Forever
Koyde Lowes, Burlington
After The Whistle received the following email which confirmed Koyde's fears:

We are most pleased to advise that a Mr. Greg Paulocci has been confirmed as the coach for next season for the then Major Peewee team. Mr. Paulocci has many years of experience in coaching, from house league through AAA levels, over the years. He has also been involved as a "Coach Mentor" with new coaches in Blomha. He is well known and most favorably known to the BLOMHA organization and was and is considered to be the leading candidate for this particular team.
Mr. Hobley only applied for one particular division. There is no policy on the number of years that someone can or cannot coach. We open up competition each and every year and take the best candidate.
Rick Dawson, President, Burlington Lions Optimist Minor Hockey Association
The editors of After The Whistle wish to advise that we take no issue with the qualifications of Mr. Greg Paulocci. It sounds as if he is an excellent candidate for a coaching position. Nevertheless, when a person like Paul Hobly comes along and provides his team with such a positive experience, it makes no sense to give his job to another. If Paul Hobly wanted to remain with the team for another year, he should have been allowed to continue in order to continue to help young players develop their personal skills as well as their hockey skills. Opening up the competition each and every year simply means that Paul Hobly obviously was not judged to be the best candidate for the position. It then suggests that there must be some question with respect to the criteria used to judge Mr. Hobly's qualifications. One would think that once a person is given a job as coach, it is up to that person to "work his way out of the position" and not have to fear about losing it each year. Your comments would be appreciated.
Last Update on the Hobly Matter (April 28, 2003)
The following email was received by After The Whistle on April 28, 2003:
"You may have this news already but ironically the coach Greg Paulocci. who was to replace Paul Hobley for the upcoming season has already resigned due to other commitments. They are now interviewing coaches and Paul has not been contacted.
signed,
the usual, wishing to remain anonymous, BLOMHA parent.
The editors of After The Whistle now understand that the new coach had to resign from the position due to a promotion at work. Koyde's father has met Greg Paulocci and indicated to us that he felt Greg is a great person who would be good for hockey. As mentioned previously, there has never been any intent to diminish the qualifications of Greg. The main issue here deals with the removal of a person who wished to remain coach; who was doing a great job with the kids; and who was not given a chance to continue. We are pleased to hear that Koyde will try out for competitive hockey next year and intends to work hard for any coach. He will miss Paul Hobley, but he is ready to move on. Congratulations, Koyde. We all wish you well.
The following is an email sent to After The Whistle on September 1, 2003. It was sent by Koyde's father to let us know of Koyde's status in the next year.
Just wanted to give you an update on Koyde Lowes.
First of all Koyde was asked to come back an play for Burlington Bulldogs PeeWee Rep team. At first he or both of us discussed whether this is the route we'd like to go again. Last year was not a great experience as far as politics - the coaching was great. Losing his friend and coach Paul last season was hard. Sometimes life isn't fair and you to take the cards that are dealt to you. I've always taught Koyde that you can't quit because you don't like the teacher or I can't work because I don't like my boss. Sometimes even I have to remember what I've taught Koyde and live by what I teach.
Koyde's new coach is Coach Malcolm. He was the trainer of the team last season. He is great with kids and has told me Koyde belongs on this team and will be on this team. Koyde is very happy that Coach Paul's son ( Brad) was also carded . I think Paul is taking a year off to enjoy watching his son play hockey from the stands. Koyde is also very happy that one of his first coaches he ever had son (Adam) has made the team. His father Dave is great with kids and has a hockey mind as good as anyone I know. I believe they're going to have Dave help out with the team. Dave taught Koyde a lot in his early years in hockey and we're happy to be back with him.
Koyde played 3/3 ice hockey in Oakville this summer and his team won the championship . He knows it will be hard to win games with his Rep team , but he just wants to have fun and if he wins thats a bonus. Koyde will always be a winner to me.
Thanks
Jim Lowes (Koyde's dad)
Burlington
CHAPTER TWO
The following email was received on November 20, 2003. It appears to be the final chapter on a roller coaster ride of emotions for a young boy and his family. We will let Mr. Lowes tell you how the story continues to unfold, and then you can read on beyond that as we hear from Coach Hobley himself.
What a difference 1 year makes. Koyde did make the rep team this season but 2 weeks ago we left and went back to house league. Koyde's old Rep team has been outscored 116 - 12 in 15 games so far this season. We paid $1,300.00 to play Rep and all Koyde was taught was how to lose. How do you pump your kid up to play hockey and he knows your going to get hammered. At least last season when we lost all our games, Coach Hobley was teaching our kids how to play hockey. This season they hired a coach who never coached at the Rep level. House league coaching and Rep is like night and day. He is very good with the kids but his hockey knowledge is very limited, but he( coach) will do what ever our hockey association (BLOMHA) tells him. Its a little sad cause Koyde is a pretty talented kid who loves hockey to death. We didn't mind losing but when your getting hammered day in and day out , the fun ends quickly. I hope next season our association hires a coach with some Rep knowledge and Koyde will try out. If they don't he'll continue to play house league with all his buddies and have a blast winning some and losing some.
Maybe Koyde is meant to play house league. I know Koyde wouldn't trade all the memories he has had in the last 2 seasons playing Rep. He got to live a dream that he always had and some kids will never get that opportunity in life. I will thank our association(BLOMHA) for putting Koyde back to house league at our request, they could have refused . They did give us back some of our money. We will still come out to watch Koyde's buddies play for the Bulldogs and we wish them well.
Koyde, I'd like to thank you for making my dreams come true by being the best son you could be for your dad.
Jim Lowes
THE BEAT GOES ON
The following email was received on December 15, 2003. It was sent by Mr. Paul Hobley to let us know that he will continue to coach minor hockey for all the right reasons...
Hey Martin, Warren, and Robert;
My name is Paul Hobley, I'm the coach Kody Lowes wrote into your site about last season.
First of all I would like to thank all the people
that wrote in
and said all the nice things about myself and the players I have coached. I was watching the Leaf game the other night and my phone rang. I picked it up and it was one of the players that I released from my team last year. I thought he wanted to talk to my son as they are friends, but I was wrong.
He called to tell me that the coaching applications for next year were being made available and he wanted to know if I was going to put in for a team. He told me he didn't tryout this year because I wasn't coaching but his dad told him I was coaching a girls Midget team this year and called to try and get me to return to boys hockey.I had decided to stop coaching after the problems I ran into with BLOMHA last year.
All summer I pondered if I would miss coaching, I guess I did . At my daughters fall tryouts her coach asked if there was anyone interested in helping.I didn't offer at first but he asked and I said I would help if he was stuck. Well I've been helping since the second fall tryout.My daughter is Bantam age but plays goal on a Midget team. The team is a mix of rep and house League girls from 14 to 18 that play in a Midget / Intermediate loop.
I'll tell you, they have made me remember the reason I started coaching in the first place.We have won some and lost some but man do they try and do they ever want to learn. The team is made up of the greatest young ladies you will ever meet.They have put the fun back in coaching for me.
I have decided to return to a head coaching job next year, I have applied for a head coaching position with The Burlington Eagles Minor Bantam AA / A (If they want me).They are our OMHA team in Burlington.I have also gotten involved in coaching in Spring AAA Hockey this year.
My son played out of Cambridge for the TRF LEAFS last summer and the director of the program has asked me to coach a team for them.I may not get to coach the real Leafs but the TRF Leafs will do just fine. It's a great program with great people that put the kids first. Every player gets better. Every player has fun and most important, Every player plays.
So all I can say to the player that called to ask if I was coaching next year is" I HOPE I AM ". The few people in BLOMHA will not make me turn my back on the young players that I can have an impact on. Besides I need them more then they need me. They keep me young.
One last thing,To all the Coaches , Refs and Hockey People that think twice about staying involved, all I can say is do not pack it in the kids need you.
Paul Hobley
People Are Afraid To Speak Up When It Comes To Rep Hockey
Editorial by Jim Lowes - Burlington, Ontario

The following editorial was sent in by Jim Lowes. He is the father of Koyde Lowes, whose submissions can be found above as part of this major feature story. Following the statement by Jim Lowes, you will find a comment by Robert Kirwan, Publisher of After The Whistle.
I'm not surprised that you're not getting a lot of e-mails on the subject of Paul Hobly not being appointed to coach a team for next year.

Most parents who have kids in Rep are scared that their organization will read what they say and will be black balled from the Rep system. 90% of parents wish they had a Paul Hobley in their hockey system, but will not say it out loud.

My son (Koyde) wrote the latest article because he was frustrated and couldn't understand why his coach was let go. Rather than screaming or throwing something, he wrote the article to vent what was built inside him. It helped a lot.

Koyde is just a kid. Sometimes as a parent, I can't give him the answer when I really don't understand either. Its too bad that an 11 year old kid doesn't worry if he ever plays Rep again for saying his true feelings. You have these big mouthed parents who like to say things behind closed doors, but don't dare say it directly to someone that has something to do with their child making the Rep. team. To these parents I say get a life. If you have any balls why don't you say what is on your mind? Don't hide behind your kids. Stop living the dream you could never have through your child.

For me, life goes on whether Koyde plays Rep or house league. I love him unconditionally and I taught him a long time ago to express his feelings in any situation . If Koyde doesn't make Rep next season it's because he's been black balled.

Again, he is in it for the love of the sport and Coach Hobly taught him that losing can be fun.

I would love to take all the kids to a golf tournament with their dads. When their dad goes to tee off or putt they can yell at him to hit the ball harder or make that ever so important putt. They can yell at him to look at the ball or more to the left.

I'd be shocked if you get anymore e-mails on this subject. Too many parents are spineless when it comes to their Rep clicks with other people.

Thanks Koyde for having the nerve to tell people how you feel. I love you a lot and I'll always be proud of the man your growing up to be.

Finally, Coach Hobly, we'll never forget the things you showed us about life and hockey.

Jim Lowes (Koyde's Dad)
Burlington,Ontario
We want to thank Mr. Jim Lowes for expressing his feelings on this very important issue. Rep teams or traveling teams or whatever your association calls them, are a very important part of the hockey development system in Canada. In order for gifted players to develop their skills they must compete with and against other gifted players. All professionals will tell you that you are only as good as your competition.

That being said, Mr. Lowes has identified an ugly side of the Rep system which all too often is governed by politics as much as hockey skills. Because Rep teams have try-outs, there is always a demand for the positions on the club. The coaching staff of a Rep club, therefore, has the luxury of selecting the players who he feels will contribute the most to the team. Unfortunately, this sometimes translates into "whose parents will give me the hardest time if I keep their kid on the team"?

I too have experienced situations where parents have voiced their concerns and complaints in the lobby of the arena or in the stands, but during team meetings with the coach these very same parents suddenly change their tune and say nothing. In fact, they often deny ever having any concern at all.

As frustrating as this is, I would say that it is a fact of life that goes far beyond the rink boards. It takes a lot of nerve for a person to speak his/her mind in public. Once you let others know how you feel, you have to be prepared to take criticism from those who disagree with you. To speak your mind is to take a risk and leave yourself open. However, a person's integrity is considered by many to be the most important possession one can have. It is something that you don't want to lose.

Thanks again to Mr. Jim Lowes for sharing his feelings, and thank you again to Koyde Lowes. You have certainly learned a lot about life this season. The fact that your team didn't do very well in the standings will not mean much years from now when you look back on this year as a turning point in your development as a responsible young person.

Robert Kirwan
Publisher: After The Whistle

After The Whistle would like to hear your comments on this issue.
CONTACT US HERE
This is a special feature on After The Whistle that addresses a very real concern among coaches of minor hockey. We would like your comments on this issue.
PAUL HOBLY
COACH OF THE YEAR - DONE!
COMMENTS FROM OUR READERS

We thank all of the following readers who have taken the time to send in their comments. Please be advised that the comments are shown in reverse order from when they were received. For example, the comment which has been received most recently is the first one you will read. The last comment in the list is one of the first comments that were received.
After The Whistle would like to hear your comments on this issue.
CONTACT US HERE

Just thought I'd give you an update on Koyde. The Burlington Minor Bantam Bulldogs Rep team hired a new coach who made a his stamp on the team. He cut any kid that he thought could disrupt the team or had a negative influence, he's trying to put fun and skill back into the team. He did card Koyde for the team. 2 days after Coach Doug
Naturally Koyde can't wait to get on the ice and show his new coach that he appreciates being carded.
This is Koyde's update and maybe at Christmas we'll give you a team update.
Jim Lowes

The end of an era.
In Burlington an era is over for Paul Hobley and his son. Paul Hobley's son Brad Holey has played rep hockey all his life. Brad Hobley has been with the Burlington Bulldogs for approx. six years. The coach for the minor bantam Bulldogs (a new coach yet again,5 coaches in 5 years.) cut young Brad Hobley because the team was going in a different direction, not because Brad Hobley was not good enough to be on the team. Burlington Executive would not let the coach ( the coach was also afraid of Paul Hobley); thus Brad Hobley was cut from the team. The politics in Burlington are a disgrace to hockey . The rep teams in Burlington do not care about kids and teaching them about the game of hockey; but the only thing they want from the parents of all these kids is their hard earned money. Paul Hobley's only crime as a coach is that he cares about the kids he coaches. He does not care about the money at all. My son played under him and feels that Mr Hobley is the best coach that he has ever had. Mr Hobley's dedication to kids and their fun is great.The rep teams in Burlington have missed the boat went not hiring Mr Hobley to coach one of their teams; but they do not care for the kids and their fun and development.
A parent from Burlington
Please do not use my name if you publish this e-mail.

I know exactly how Koyde feels. This year I am playing Bantam and we have not won a game all season, and our coach (Terry Berg) is a great guy. My experiences,as well as my coach and team's this season are exactly the same as Koyde's. I hope I can play for my coach next season. If not, I will always remember what he taught me and how he made me a better person. He doesn't care if we win or lose, he says he only cares about how much effort we put in to the game. If I do not make the NHL as an adult, I hope I can at least coach minor hockey the same way he did.
This is a story my whole team can relate to. We all hope we can play for him next year.
Aaron Singleton
#7 for the Millwoods Snipers
Thank you very much for your comments, Aaron.
Winning is always an important priority, and it should be something that we all strive for in competitive sports, but it is still a game and there are much more valuable things to learn about life through hockey. Congratulations on demonstrating wisdom and insight that is far beyond your age.
Robert Kirwan
Publisher
After The Whistle

Hi there,
I have just finished reading the articles on Paul Hobley written by Koyde Lowes and am deeply sadened that someone who cares this much about his kids was removed as their coach. I would have hoped after the organization lost the replacement coach due to commitments, they could have gane the extra mile and offered Paul Hobley his spot back. Having pride is a bad thing if it prevents the correct action from being taken. The organization should have made a call and put differences aside, and let the team be reunited for the right reasons.
My son has just turned 9 and will be playing AAA hockey this september, I can only hope we can be as fortunate as Koyde has been, and be influenced in such a positive manner by a coach I would call a gentleman. Real values are what we strive to teach our kids with respect, working hard and community pride being on our list. It's very unfortunate the organization couldn't see what obviously was a very positive environment for everyone.
Thank you for writing the story, if it influences just one person in what life is really about then I could find that redeeming.
Glen Whittaker.

About the Paul Hobly story. This touches the heart to myself as well. I am a head coach for a Minor Bantam AA team in the Ottawa area. Our record at this time is 2-7-2 I am under a lot of pressure for the parents because our season is not going well. I am working hard with the kids and having fun even though we are not winning. We just came back from a tournament in Kitchener and we did not do well. I am the type of coach that does not yell at players. I think we should reinforce all the positives and encourage as much as we can. I try to make the practices fun and at the same time try to improve their skills. Well guess what? Because I don't yell at the kids and push them real hard, the parents have asked me to resign. If I do not they will go to the association and have me removed. I don't need this stress on me and my family. I am a non parent coach and I am here for the kids and not the parents. The association totally agrees with me and said that I do not deserve this. I will be assigned to another team (Major Bantam AA) and they will look for another coach to take over.
I strongly believe that the kids are the ones that suffer. There is so much pressure put on those kids from the parents. Where does the love of the game come in. All parents think there sons/daughters will make pro and make millions of dollars. Well, they better wake up and smell the coffee because the percentage of kids that make it are really low. I tell the kids to focus on school and try the scholarship route. I make sure their schoolwork is not neglected, if so, they will not play a game but will go to practice. I don't understand today the mentality of the parents, and I think I don't want to. I will keep teaching the kids what I know and will not change the way I approach the way I coach. To all the parents that read this, I tell you, let you kids enjoy the game and encourage them as much as you can. You will definitely see a difference not only at the rink but at home and school.
Have a nice day

Pierre Menard, Ottawa

Hello I am a first year referee at 34 years of age who has played senior hockey in the past and still could play and I am really enjoying reffing, i have also completed the coaching initiation program and I am thinking of becoming a first year coach next year, this story is very disturbing to me, how can a coach be let go when his team shows so much respect for him, the people who are responsible for him not coming back should be told that it is not whether you win or lose but how you play the game, shame shame
Neil MacLellan, Brandon MB

I am on the board of directors for the North Toronto Hockey Association and I have 2 sons who have been playing minor hockey for the past 11 years, Time and time again when we are faced with decisions related to minor hockey we always defer to the most important criteria, what is best for the kids. It is the kids who play the game as a recreational sport. They should play it for the pure enjoyment of being involved in a great sport.

It appears that the kid's best interests may not have been a major criteria in the decision making process. This appears to be another lost opportunity to improve the game.

It appears that Coach Hobly created a great environment for these kids to play hockey. Coach Hobly, all I can say to you is that where ever you coach next year.....keep up the good work!!!!!!!!!!

Evan Wittrup

TEAM COACH OF THE YEAR HEADED FOR EARLY RETIREMENT
First let me reiterate the words and thoughts of the 11 year old hockey player Koyde, who wrote in to tell us why his coach should be coach of the year. My son also plays on this team and is coached by Coach Hobley and his staff. He (my son ) is not a first year player like Koyde but is the first year he has truly enjoyed playing.
The coach is in his first year coaching the team , so why is he not returning next year? Is it because he is not interested? To quote him "he is here for the long hall, win or lose or until they fire me. Has he made progress? Every player is better then he was at the start of the season, they have come to benefit from this coach's experience and knowledge of the game. Do the players enjoy playing for this coach? If asked every single player thinks of this coach as a friend, mentor and to some as a surrogate father. Do the parents want this coach back?
Ask them and you will find that this is the first time in four years the parents would want the coach back. And the hardest question to ask. Is the coach's son a strong enough player to play at the rep level? He was voted by his teammates to be an assistant captain and he is one of the top players on the team. So I ask you again, why is he not returning?

We as parents have been told he is being replaced by someone qualified. Something quite hard to do, when this coach scores an a+ from all the players and parents. This team has had five coaches in four years and now according to the powers that may be we will be on number six. I have always thought that consistency grows success. I guess I have a different agenda than the brain child in the big new offices of the BLOMHA executive.
It is obvious to myself and everyone involved that BLOMHA would rather have a coach they can control, like a puppet rather than someone who put nothing before the young men he is coaching.
This coach is one of the most caring and dedicated individual I have ever met, not only is he at the rink with this team at least four days a week, he seldom misses his teenaged daughter who plays goal for the Burlington Barracudas, he runs a contracting business, work for a hazardous material company who also sponsor the team, But he also volunteers countless hours for the Burlington Fire Department. What a role model.
The only good that can come out of this is if Mr.. John Tate (of city rep) or Mr.. Podaluck (of Burlington Girls Hockey) reads this and scoops up Coach Hobley before the dictatorship at BLOMHA comes to their senses and ask the best thing that ever happened to the team and possibly the organization to come back.

signed,
Deeply Concerned Hockey Parent

PS I am not using my real name for the reasons that are obvious to most.
Publisher's Comments:
I want to thank the "Deeply Concerned Hockey Parent" for sending in this letter. It contains several indications that all is not well with at least one team in the BLOMHA. However, it also points out something which is currently going in many other hockey associations in the country. The coaching selection process is admittedly a difficult one for league executives. There are so many "qualified" people who want to offer their services. Nevertheless, as hockey consultants, we try to advise league administrators to be aware of "perceptions" which will result from their decisions. A coach with the caring attitude like Mr. Paul Hobly is not necessarily rare in Canadian hockey, but it is rare to find someone like Paul who also develops a positive relationship with his players and parents. We know that it isn't healthy to allow one coach to stay with a team for much more than two or three years. You want to give the children a variety of teaching styles and experiences. But when things blend so well in one year, there is usually no reason why the person can't be given at least one more year to continue the development process. In this case, it would appear as if a "qualified" replacement has been found, but it will be a difficult fit for the new coach to step in and deal with the comparisons which will undoubtedly crop up in September and October. Our advice to Board which like to change coaches each year is to put it in the constitution in order to avoid the problems which have arisen in the BLOMHA. If it isn't a written policy, and if other coaches have been allowed to remain with the same team for more than one year in the past, then I am afraid the BLOMHA executive has dug themselves a hole out of which it will be hard to escape unscathed.
Robert Kirwan
Publisher - After The Whistle

It is pretty sad to see that hockey organizations are teaching our kids that if you don't win, you will not be with our team. The fun is gone out of hockey for organizations Burlington, who it sounds like that want a winning team if their going on their 4th coach in 4 years. Sounds like Hobly was great leader to the kids. All we read about is kids getting assaulted, sexually abused, verbally abused hockey. It was so nice to hear about a coach who respected the players and made losing fun. I coached house league for a few years and nothing was harder than keeping the kids happy when we keep losing. I have 2 boys that play hockey in and I only wish we had a coach Hobly here.

I hope that Koyde will continue to play hockey, he sounds like a good kid, who loves the game and had fun playing it.

I think sometimes these organizations think their running NHL teams, their kids, let them have fun and why get rid of a coach who the kids respect and enjoy playing hockey for.

Due to Koyde's letter I see hockey in a different light, losing can be as much fun as winning if you have a good coach.

Maybe down the road you ( After The Whistle) can get Coach Hobly to write and tell us the secret to good coaching how he feels about hockey in general. Good luck to Koyde, maybe one day I'll hear your name in the hockey circles and I can't wait to hear how next year goes for you Coach Hobly I hope you continue coaching somewhere, We more people like you coaching hockey in Canada.

Paul Wilson
Winnipeg.Man.

Advice From Vancouver Island

The terrible story told in Koyde Lowes' most recent letter is exactly the problem with Rep Hockey. Over the last two or three years, as I have studied kinesiology, my opinion of the competitive hockey system has gradually degraded. All of the problems that seem to have become apparent in Minor Hockey are rooted in the Rep system. I have spent a lot of time mulling the issue and the conclusion I have come to is that the rep system needs to be overhauled. The most exciting hockey players to watch are those who learned their skills in a fun setting, a recreational setting. Wayne Gretzky learned his in the back yard. Maurice Richard learned his on the outdoor rinks of Quebec. The Sutter's learned theirs in a barn. All of these places have one thing in common: winning does not matter.

In the rep hockey system, team success is of paramount importance. Every player on a team wants to win and in my experience most players are willing to give up some of their own ice time in order that the better players can have a few minutes more or a shift at a crucial time in order to win a game. That kind of team mentality in itself is not a problem; it is wonderful. Learning how to be part of a team is excellent and learning to make compromises and sacrfices for the sake of team success is, too. Those lessons do not, however, make anyone a better hockey player; they are life lessons. Another important life lesson is learning how to have fun while losing. Another still is learning to take advantage of opportunity when it comes your way. These last two are often unhelped by rep hockey. House League hockey has much the same problem. As soon as there are league standings to be kept, the focus is again on team success. House League kids want to win their league championships just as much as Rep kids.

On Vancouver Island, I see a very promising system. The form in which it exists is far from perfect, but it is much better than other systems I have seen. In the BCAHA an association is classified in the AAA, AA or A category. The category is decided by the number of players from which it draws for its teams. In each age division it may have one team at AAA, AA or A, depending on the association's category. Its other rep teams must be B teams. It is common for a AAA association's B team(s) to function at the same or a better level as a AA or A team. There is huge disparity among B teams.

The "Island League" that most Vancouver Island rep teams play in has a solution to this. While playoffs must be played in a team's AAA, AA, A or B category, the Island League structures its regular season differently. At the beginning of the year, all teams in an age division play each other in a tiering round. At the end of this tiering round each team's calibre is assessed, mainly using the W-L-T results, and two or more leagues formed in the division. Each league is formed so that its teams will be closely matched. This creates competitive games as no teams completley dominate others in the league. The chief benefit of this tiering system, however, comes in February, when the season ends. Once the league schedule is complete, teams revert to their by population category for playoffs. The playoffs consist of a round robin followed by a 1st vs 2nd final series. The league standings are scrapped. The league champions get a banner. The only thing those teams are playing for in the season is that banner. The direct road to the Provincials (and Nationals for Midgets, Westerns for Bantams) does not begin until after the regular season is done.

Obviously, the better each individual player on a team is, the better the team will be as a whole. This format of "meaningless" regular season games allows coaches to focus on developing each and every player to the best of his ability over the course of the season. Meaningless, here, simply means that the games have no bearing on playoff qualifications or standings. Prestige is won at BCAHA Championships in March, not in Island League Championships in February. A coach going 0-16 in the regular season but bringing back a blue and gold banner from Provincials would certainly be brought back for another year. So by making the regular season completely insular, the Island League lets coaches create a better team before going into Provincials qualifying games. Smart coaches will see to it that the focus for the first two-thirds of the year is on making every, single player on his team the best player he can be.

Because losing regular season games does not hurt the team's chances at playoff success, there is no burden of victory on the coach. He can play every player equally. He can give all of his players opportunities in pressure situations. He can give everyone a chance to play on the power play, on the penalty kill and in the last minute of a one-goal game. The burden of victory is not on the players, either. They are more free to take chances and to try new things. They are more free to play creatively. All of these factors contribute to better hockey players.

The "Select" system used to develop house league players in many associations is a fantastic one. If rep teams were formed in this way, and "regular season" house league games were made exhibitions giving them no bearing on the standings, it would benefit all players. Because the rep players would remain in house league, house league might need to be divided into A and B or even A, B and C divisions in order to ensure that the weakest player are simply not left out of the play. The better house league players would have stronger opponents to face in the rep players. This can only help them. Because the games are meaningless for championship purposes, the burden of victory is gone and all of the above described advantages will be present. Now let us picture the rep teams in this system. The rep teams would play an exhibition season and the players would be drawn from house league. The house league team would be the priority for the players; if a conflict existed, they would play for their house league team. The rep teams would need to carry larger rosters. 30 players and four goalies would be on the team during the season instead of 15 players and two goalies. Twice as many players get the opporutnity to play at the higher level. The rep team's coach has the opportunity to see however many of the house league players he wants to in rep games. The rep games, too, are meaningless in terms of championship.

Now it comes to February. The house league season has wrapped up. Now begins the road to provincials, and other year end tournaments. There are six or eight weeks left. 12 or 15 weeks were spent developing players individually. Now it is time for the 17 man roster on the AAA team. Now it is time to go into games where team success matters. Now it is time to learn those other lessons and to play for keeps. The final rep teams are picked and begin their playoffs. The house league teams are adjusted to be competitive and begin playoffs of their own, or perhaps a tournament season, giving them something to play for, something exciting and challenging. Under such a system, every player would have an entire season to show his capability to the rep coach. He even has time to improve. He might not be as good as the rep players at the start of the season, but by February he might even become the captain. All season long, though there is no championship on the line, there is always this to motivate the players to be better. There is always the opportunity to advance, to make the team. Two thirds or more of the season is spent in getting there, with everyone having the same opportunity, receiving constant feedback. The whole season a player gets to hear what he is doing well and where he can improve and what improvements will help him get to the next level. The way things are, this happens in the first week of the season or, in some places, even the spring before!

Minor Hockey is not meant to put a product on the ice. That is what professional hockey is about. Minor hockey exists for four main reasons:

#4. To help players become the best players that they can be.
T#2. To keep our children fit and teach them to lead healthy lifestyles.
T#2. To teach our children valuable lessons about team-work and sportsmanship and to build character.
#1. To give our kids a whole lot of fun.

Imagine how coaches' foci would change in the kind of system described here. The Paul Hoblies of the world would be the most successful ones! Our kids would have more fun. Fewer would burn out. Our kids woudl have more fun. Fewer would drop out. Our kids would have more fun. We would develop better hockey players. Our kids would have more fun. We would develop more high calibre hockey players making our Junior, Senior and Pro leagues more exciting. And do not forget, our kids would have more fun!

Coach Paul, if they will not let you continue to coach rep then please, for the good of the game, continue by coacing house league. I will always tip my hat to a man who puts the kids and their fun first. Of course, I will admit that winning is usually more fun than losing, but being part of a hard-fought loss is far more fun than watching most wins from the bench.

Koyde, do not decide what to do next year based on whether or not you think that Burlington Minor Hockey treats people fairly. Make the decision that means YOU will have the most fun. If that means trying out for rep again, then try out for rep. If that means playing house league, then play house league. If that means playing rugby or learning the piano, then play rugby or learn the piano. The same sorts of issues almost made me quit refereeing this year and reffing is something I love to do. I have decided that as long as I still have fun from the drop of the puck to the final buzzer, I will keep putting on the stripes. I hope you make the same decision. Do not let grown-ups take away your fun. Instead, set an example for them to follow. I could say more, but it's after midnight and my eyelids are telling me it's time for bed.

Yours in Hockey,
Duncan C. Pike, Dip. P.E.
B.A.(Phys. Ed.) Student, Malaspina University
CHCP Intermediate Level Coach
Head Coach, Fuller Lake PeeWee 'D' Capitals,
CHOP Level III Official
Referee, Island League and 2003 BCAHA PeeWee 'A' Championships
Linesman, Vancouver Island Junior Hockey League and Australian Ice Hockey
League
Centre, Nanaimo Juvenile Clippers
Former President, Malaspina University-College Hockey Club