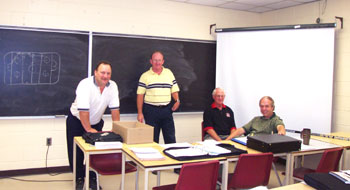 Kevin Donnelly, 2nd from the left in the photo, is shown with several of the instructors who took part in the referee certification program at the beginning of the season. Running the training program is one of Donnelly's main responsibilities as Referee In Chief of Districts 2 & 8 of the Northern Ontario Hockey League. Alone with Kevin are, from the left Mike Lefebvre, Donnelly, John Dandenault and Carl Haninnen
Donnelly is entering his first full season as the Referee In Chief for Districts 2 & 8 of the Northern Ontario Hockey Association. Districts 2 & 8 include the Greater Sudbury and Espanola Areas. He is looking forward to working with his crew of over 185 officials, including 43 who have put on the stripes for the first time this year.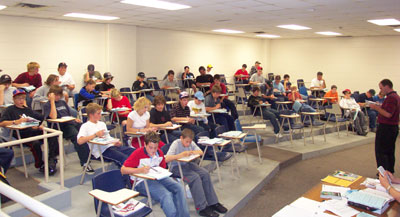 "The high turnover of referees is a major problem which we must constantly be aware of," explained Donnelly. "We have 43 Level 1 officials this year, and it is my goal to focus on increasing the supervision and evaluations of these young referees in order to help them become better and want to move on to higher levels." In the photo above, we see Warren Kirwan giving instruction to the Level 1 hopefuls.
Unfortunately, the nature of the game today, with its increasing pressure from parents and coaches, has a tendency to drive good officials out of the sport in a few short years. The situation has become extremely severe in the Sudbury District as well as in other areas of the province. As the senior referees become older, they are not being replaced with younger officials who want to move up. This means that senior referees, who should be spending time supervising and coaching young officials, have less and less time for this very important role. They are all too busy taking care of games at the higher levels and the young officials are often left to fend for themselves.
"We have some excellent officials in the Sudbury District. Many of them have gone on to become professionals, and we constantly here wonderful comments from visiting teams and administrators who come to Sudbury to play," stated Donnelly. "Now we have to make sure that we have good replacements for the senior referees and that means coaching and supervision - something that I intend to make a top priority this season."
The bulk of the officials are found in Level I or II, and this has also caused some concern for Donnelly as well as others around the league.
"When you look closely at our senior officials, it is rather distressing to see that the numbers are so low," explained Donnelly. "We have one Level 6; five at Level 5; and about 9 at Level 4. This means that we only have at most, fifteen senior referees and linesmen who have advanced beyond Level 3. And that number is decreasing each year as good referees move out of the district in pursuit of a better job or a better career. We have about 45 officials at Level 3, and now is the time to work with them to keep them on the ice."
Much of the loss of Senior Referees is due to normal, uncontrolled circumstances. For example, many of them are in their early to mid-twenties. This means that many of them will be on the move in search of jobs in Southern Ontario. A few of them have gone on to officiate in the south where there are more games and more opportunity for advancement. Some just get fed up with the whole system and decide to drop out.
One of the problems facing young officials is finding games in which to get experience. According to Donnelly, "You really have to get into 3 or 4 games a week in order to develop the experience needed to show steady improvement. On top of that, you need to be supervised and coached frequently in order to know where to improve."
The biggest problem is that entry level officials are generally assigned to the Tyke and Novice divisions. When they are ready to referee, they are assigned to the Atom division where many young officials either "make it or break it".
Donnelly states that the key thing he looks for in a young official is enthusiasm. "A person must know the rules extremely well in order to be a good referee. In the heat of the game, you are being held accountable by coaches, players and parents to come up with the right decision. However, the best knowledge in the world means very little unless you have enthusiasm for the game and really want to be on the ice. This enthusiasm is contagious and it is what makes an official stand out among his peers."
Besides doing his administrative duties, Donnelly also takes to the ice to referee up to AAA Bantam hockey. A lot of his time this season, however, will be spent in the stands, supervising young officials, including his son, Jeff, who is an up and coming referee following in his dad's footsteps.