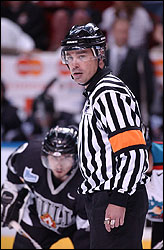 Fans of the Ontario Hockey League know this man very well on the ice, as he has been one of the top referees across Canada in the Canadian Hockey League for the past decade.

Patrick Smola is a highly respected hockey referee because of his presence on the ice.

The players and coaches respect Pat for his fairness and know that they can approach him to discuss a problem or concern.

Pat is also very highly respected by his fellow officials, as he is always willing to help his peers improve their skills both on and off the ice.

Patrick Smola began his hockey officiating career at the ripe old age of 15 with the Kitchener Minor Hockey Association. He began as most officials do, officiating the Novice and Atom categories and moving up the ranks based on their skills to manage a game and confidence to do the job on the ice. Pat was so successful at officiating hockey games that in only his fourth year on the ice he was hired by the Ontario Hockey League as a Linesman at the age of 19.

In 1987, his first season in the OHL he lined the All-Star game in Hamilton. The other officials on that game were referee, Bill Prisniak who is now an OHL Supervisor and the other linesman was Don VanMassenhoven, who is now an NHL Referee. It was clearly evident that Pat was going to be a great official in the years to come.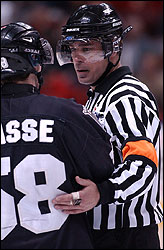 In the following season, Pat was brought up to line 10 games in the American Hockey League but in February of that hockey season Pat was offered a career with the Waterloo Regional police and decided to go to Police College instead of limiting himself to a hockey career only. After fourteen years of service Pat is now the "Staff Sergeant of Division 2 Cambridge Patrol" in the Waterloo Regional Police and is in charge of 17 police officers on his shift.
Pat has no regrets when he looks back on his decision to become a police officer instead of concentrating solely on becoming an NHL official. Pat is still able to referee one of the highest calibers of hockey in the world and he enjoys his Police work thoroughly.
In total, Patrick Smola has refereed over 550 games and lined nearly 300 games in his 17-year career with the Ontario Hockey League. His experience is invaluable to younger officials and he has some advice for you up and coming officials. Be patient, as the opportunities will come to those who work hard.. You are only as good as the last game you worked. He also suggests going out and watch other officials and see how they manage a game and communicate with the players and coaches. After each and every game you officiate, you should come out of that game with at least one thing to improve on just as Pat still does after 20 plus years of officiating. The learning process never ends! Finally, the respect shown towards officials is decreasing partly because officials are unwilling to communicate with the coaches and players. The key to officiating is to be able to gain the respect of the players, coaches and fans. You must be willing to communicate when the team brings a problem or concern to you.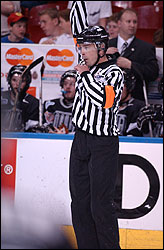 Pat's career highlight was just this past season (2002-03) as he was chosen to referee two round robin games and then selected for the semi-final game in the Memorial Cup that was held in Quebec City. It was an experience that very few officials will ever achieve and Pat was honored to have been chosen for such a tournament. This was Pat's second Memorial Cup appearance as he was selected in 1999 as a Referee for the tournament that was held in Ottawa. In that same season, Pat was also chosen to referee the OHL All-Star game in Sarnia.
It is clearly evident that Pat Smola is one of the best referees to ever officiate in the Ontario Hockey League and Major Junior Hockey for that matter. He also has some advice for the hockey players and parents at the Minor Hockey level.
Players: The respect for other hockey players is becoming less and less apparent which will only lead to more violence on the ice. This attitude or lack of respect has to change if hockey is going to thrive in the years to come. In order for you as a player to be shown respect, you must show respect to people in a position of authority such as the on-ice game officials. Lastly, hockey is only a game and you should enjoy playing the game and having fun with your friends. Only a very small percentage of kids will ever have a chance to play in the NHL.
Parents: Let your kids have fun with their friends while they are playing hockey. If you put too much pressure on your children and the officials, it will only end up driving them away from the game. This is only a sport to help kids develop other life skills that will help prepare them for other challenges that life will bring to them in the future.
Pat Smola is a highly respected official and a Police officer both on and off the ice. Hockey has provided Pat with an opportunity to stay in shape and meet a lot of great people through his travels all while refereeing the game he loves. It has been a great experience and one that both he and many hockey enthusiasts will never forget. Keep your eyes open for Pat in your travels through the hockey world as you are watching a referee that is on top of his game!