Gary Coupal was born on September 16, 1974. He grew up in the little town of Capreol, just north of Sudbury, Ontario. Like any other Canadian boy, Gary played hockey from the time he could hold a stick and stand on skates. He played all of his minor hockey at the 'AA' level, toiling the blue line for the Capreol Hawks.

"I had a lot of fun in minor hockey," recalled Coupal. "I was a big defense man and I was pretty good. I was considered a leader on the team."

After midgets, he landed a spot with the Muskoka Bears, playing in the Metro Junior 'A' League out of Bracebridge. He played against people like Brett Lindros during that 1991-92 season. Again he played defense and was a standout.

A DREAM COME TRUE!

Then he was given a chance to try out with the Sudbury Wolves. It was something that he had always dreamed of while playing in Capreol. It was something that most young boys had and still dream of. Playing in front of your family and friends on the local OHL squad.

There was only one problem, and in retrospect, Gary Coupal feels that this was something which changed his hockey career.

MOVING TO FORWARD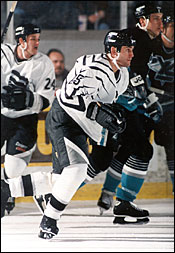 The Wolves that season were very strong on defense. They had players like Jamie Rivers and another big lad by the name of Wilson. There was no way of cracking the line-up on defense as a rookie, so when the coach of the Wolves asked Gary if he could play forward, Gary naturally said yes.
Just prior to an exhibition game, Jamie Rivers approached Coupal and offered some advice. He said that if Gary wanted to stay with the team, he should show the coach that how tough he was. Other players were being cut because they couldn't rough it up.
Coupal listened and that night picked a fight with one of the Sault tough guys. After laying a solid beating on his opponent, Coupal was signed to a contract and the rest, shall we say, is history.
YOU SOON FIND OUT WHAT YOUR ROLE IS
Coupal played three years with the Wolves, and it was quite obvious what his role was. "When you play on the 4th line, and you are put on the ice with five minutes left in the period, lined up beside the other team's 4th line, next to another player who is on the ice for the first time, you know what you are supposed to do. No one has to tell you." explained Coupal, who became one of the most feared enforcers ever to wear a Sudbury Wolves uniform.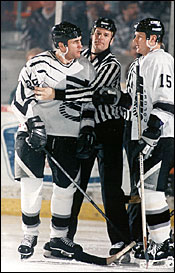 During the first 2 ½ years, Coupal often found himself in trouble with the league. Suspensions were common and fighting became second nature. This was a person who enjoyed hockey as a youngster, and was a very talented defenseman, but once he made the grade as a forward, he knew there was only one way to stay and live his dream.
"Now I wish I would have remained a defenseman," states Coupal. "Even if I would have had to wait an extra year to get into the OHL, playing defense would have been better for me. As a forward, I was usually on the 3rd or 4th line and my job was to be physical."
Coupal recalls one game during his pro career when his line, which was under strict orders from the coach to dump the puck into the end and then crash and bang the opposing defense in order to wear them out, actually carried the puck over the blue line on a 3-on-1. "Even though we got a good scoring chance, the coach was upset with us and let us know in no uncertain terms that we were never to do that again. In his word, we were there to wear down and scare the opposition, not to score goals."
"As soon as you get to the OHL level, it becomes a job, not a game," explained Coupal. "If you want to keep your job, you do what you're told."
TROUBLE BEGINS IN LAST YEAR AS A JUNIOR
Half way through the 1994-95 season, his final year as a Junior, Coupal was involved in a high-sticking incident. He received a match penalty, but the league decided to come down hard and suspended him for the remainder of the season and playoffs - virtually a life-suspension from the OHL since this was his last year of eligibility.
Instead of sitting out the rest of the year, Coupal accepted a professional contract with Muskegon of the United Hockey League. He finished the season there, playing 18 games and scoring 4 goals and 4 assists, while amassing 100 minutes in penalties to prove that he was tough enough to play at that level. He found that because players knew about his suspension from the OHL, they assigned their tough guys to see just how much of a bad boy Gary really was. "I was always being tested and challenged. I was the new kid on the block and I had to prove myself every game."
He played the 1995-96 season with the Columbus Chill of the East Coast Hockey League. In 54 games he scored 12 goals and 12 assists, but will be remembered for breaking the team penalty record with 408 minutes.
SECOND LIFE SUSPENSION
After 10 games the following season, Coupal was again involved in a high-sticking incident, sending a player to hospital with a concussion. He was handed a suspension for the balance of the season, but when he tried to return in the fall of 1997, the league refused to grant him permission to play. Hence, he was in effect suspended for life from the ECHL.
LIFE SUSPENSION #3
He returned to Muskegon of the UHL and was having a pretty good season with 12 points in 26 games, when he ran into trouble again. This time, after being involved in an incident on the ice, he broke his stick over his knee and threw the pieces into the fans. The league officials looked at Coupal's record and suspended him for life from the United Hockey League.
FINAL STOP - WESTERN PROFESSIONAL HOCKEY LEAGUE
It looked like the end of the line for Gary until he was given an offer by the Central Texas Stampede of the Western Professional Hockey League, where he played the balance of the 1997-98 and the 1998-99 season. He finished up his last year as a professional with the Odessa Jakalopes during the 1999-2000 season.
The scouting report on his Odessa hockey player's card says it all, "Gary is known as a tough guy, but he's here to play hockey. I think his reputation overshadows what he can do on the ice. Although his presence on the ice should create more room for his linemates, I'm looking for Gary to contribute in other ways."
After Odessa, Gary decided to return to Capreol where he enrolled in a heavy duty mechanics program at Cambrian College. He is now working as an apprentice with Hydro One and is married to another Capreol born and raised girl, Jamie Richards. They have one daughter, Ally (4), who plays hockey on her dad's Junior Tykes team. Gary is a referee in the Sudbury District Hockey Officials Association and is enjoying life without the day-to-day pressure of professional hockey.
"We have a real hockey family," stated Gary. "Jamie's father played in the Quebec Junior League. He was assigned to shadow Guy Lafleur the year he scored 50 goals, so we always tease him about how good a job he did."
LACK OF RESPECT - THE BIGGEST PROBLEM
Coupal has been refereeing for three years, and states that the biggest problem he sees today in minor hockey is that players do not have any respect for each other.
"You see the young kids today slashing, cross-checking and trying to injure each other with their sticks. That didn't happen as much when I was playing. In my days, the tough guys took on the tough guys from the other team. Today, you see kids going after the star players from the other team, and no one comes to protect them. It is as though no one cares," explained Coupal.
He also sees young minor hockey players being slotted into "role players" from as early as novice and atom. "Kids don't have the skills today. So the coaches develop a system and train the players to follow that system. They remain competitive, but the kids don't develop any creativity or playmaking skills. And with the lack of respect, they hate to carry the puck. All they want to do is hit and try to stick the other players."
TOUGH GUYS RESPECT LINESMEN
"I always had respect for the linesmen during my Junior and professional career," explained Coupal. "Often during the warm-up the linesmen would talk to me and ask if I was going to get into "one" tonight. I would sometimes say yes, in the 2nd period, or 'No, not tonight." and they would appreciate the warning."
He went on, "The linesmen would ask us if we were done and then move in to break up the fights. Or they would put their arm in front of our face so we would know they were coming in and we would break up easier. You always respected the person you were fighting with, and if he was hurt, you backed off."
"If a linesman or referee showed respect for you as a player, you showed it right back," stated Coupal.
COACHING AND REFEREEING - NEW MORE PLEASANT ROLES
To watch Gary Coupal skate onto the ice with a referee jersey, or to see him on the ice coaching his daughter's team, you would never guess that this was the ultimate "bad boy" of hockey. In total - life suspensions from three leagues.
One can only imagine what would have happened if Gary Coupal would have played defense with the Sudbury Wolves. If only he wouldn't have fought in the game against the Sault.
When Gary sees young 10 and 11 year-olds so obsessed with living out their dream of becoming a professional hockey player, he cringes and wonders if they too will sacrifice the game they love for a chance to make their dream come true.
Talk to Gary Coupal today and he will tell you that the only important thing for young hockey players to remember is to have fun and play fair.