Hockey fans who were around in the 70ís and 80ís will certainly recognize the gentleman standing on the right in the accompanying photo.
Dave Newell, who hails from Copper Cliff, Ontario, is currently the Assistant Director of Officiating for the NHL, and is one of the men responsible for finding new prospects for the big leagues as well as providing direction and advice to those who have already made the grade. Andy Van Hellemond, Director of Officiating, and Newell, make a great team, dedicated to maintaining the highest of standards when it comes to referees and linesmen in the N.H.L.
Newell was taking some time out this summer to give a few pointers to Marty Kirwan, Publisher and Editor-In-Chief of After The Whistle, and himself a promising young official in the Ontario Hockey League.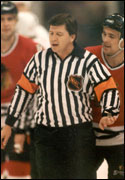 Dave Newell began his hockey career as a promising young player in Copper Cliff. As a 14-year old, he was elevated to the Copper Cliff High School Senior Club under the direction of head coach, Bert McLelland. It was at that time that he was told by the Head Scout for the Toronto Maple Leafs that he wouldnít make it as a professional because of his size. Immediately, his father, Jack Newell, who was a well known referee in the area, took Dave under his wings and on the ice. The three Newells: Jack, Dave and Dan became a common site at hockey games. They officiated game after game at virtually every level in the local area.
"I remember going down to Kitchener with Rolly Wing to the N.H.L. try-outs. I was on the ice with John DíAmico and trying to impress the supervisors. After one play was whistled down, I started to skate after the puck. I was moving my feet as fast I could, but I wasnít going anywhere. I looked down and my feet were off the ground. I looked back and there was Gordie Howe, grabbing me by the back of my pants, holding me up off the ice, laughing his head off. He still recalls that story whenever I see him," recalled Newell about one of his first experiences with National Hockey League players.
At the age of 19, Dave had a door opened by local friends of the family, Moe Bartoli and Leo Gasparini. They were able to arrange a try-out for Dave with the International Hockey League, and he was subsequently offered a job with the league. In fact, he was the only full-time referee in the league at the time, making a grand total of $25 per game, living at the YMCA and traveling by bus from game to game. Dave soon had his pay doubled and his transportation mode changed to train travel. That year he made such an impression that he was even selected to work the all-star game.
Two years later, at the age of 21, Dave was hired by the N.H.L. and it was the beginning of a tremendous 23 year career as one of the N.H.L.ís most colourful referees.
In 1990, he was appointed to an administrative position in order to provide continuing service to the league in an advisory capacity to younger officials who were following in his footsteps.
"The year I was hired by the N.H.L, they also hired Brian Lewis and John McAuley. But since I was the youngest, I was told that I would be going to Vancouver. The contract was for $5000. I bought a car for $5200 and was already $200 in the hole. My wife, Darlene and I had just got married and here we were hauling a U-Haul heading to Vancouver with an apartment vacancy rate of less than 1% and absolutely no idea where we were going to stay."
One of Newellís most enjoyable tasks in his administrative role involves going around the world scouting for new prospects.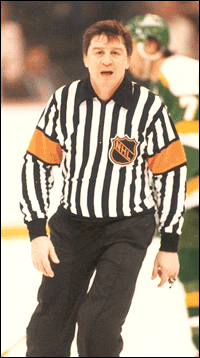 "I only have to look at a guy on the ice one time to tell if he has what it takes to become a professional referee," Newell commented. "There are a lot of little things you look for, but most of all it is the presence of the person on the ice that is most important. How he carries himself; how he talks to the players; how he looks when he skates - these are things that tell you about the character of a person. You can teach someone about positioning and rules. You can even help him improve his skating. But you canít teach judgement, common sense and rapport with the players. Those are the qualities which separate the top officials from the rest of the pack."
Newell continued, "I really think that the top referees are born with that special something which makes them stand out. And after so many years of traveling around and scouting, I can tell in my gut when I spot someone with those special qualities which makes him an excellent prospect as a professional referee in the National Hockey League."
Newell also offered some valuable advice for young officials who would like to advance to a higher level.
1. Always do every game as if you are being supervised. If you do your very best every time, you will be noticed.
2. Watch the older referees and learn from them. And remember that younger referees are watching you. Donít teach them any bad habits.
3. Spend time developing your backward skating skills. With the two-man system in the N.H.L. we are focusing on people who are excellent backward skaters.
4. Watch your positioning. Make sure you are aware of where you are on the ice at all times.
5. Everything in this game is communication. Learn when and how to talk to coaches and players and also learn when not to talk to them.
Finally, Newell reminds all referees that you are not on the ice to make friends and be liked. "When I was refereeing, I always told coaches and players, I donít care if you like me...just respect my judgement."