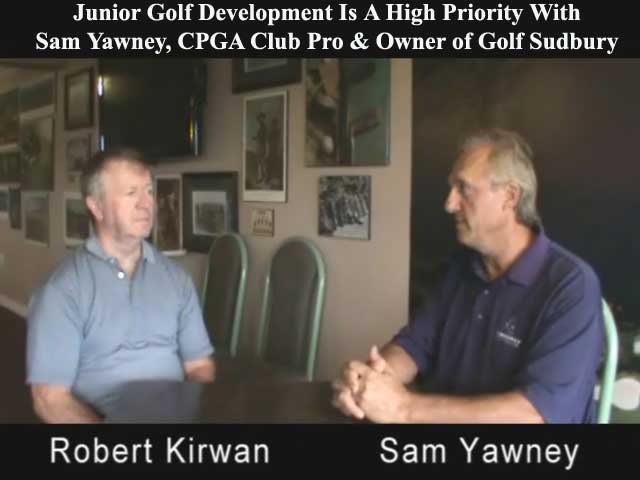 Sam Yawney has been golfing for over 50 years and still hasn't hit his 60th birthday. Over the years he has become a household name for anyone who has any interest in the sport of golf in the Greater Sudbury Area and it is no wonder that he is sometimes referred to as "Mr. Golf" in these circles.
Sam's golf enterprise now consists of four golf courses along with a huge retail store and training/practice facility. He is a CPGA Club Professional who spends most of his time managing Golf Sudbury, the name of his operation, but he still challenges for top spot on the Northern Pro Golf Tour every summer.
With everything else going on in the sport, Sam continues to spend a great deal of time and energy trying to build momentum for the Junior Golf movement in the Greater Sudbury Area. He provides numerous incentives at his golf courses to encourage young people to take up the sport and never hesitates to talk to people about the benefits that are available for children who take up the game at a young age.
What Sam Yawney is doing for Junior golf is consistent with the mission of the True Sport Movement. True Sport is dedicated to helping people like Sam develop the positive values and principles that will help youth in all areas of their life and thus in improving the quality of life for everyone in the community.
During a special interview with Robert Kirwan, the True Sport Community Animator for Northern Ontario , Sam shared his thoughts about the junior development programs in the region and discussed some of the benefits that young boys and girls can receive by taking part in the sport. Sam does point out that the social nature of the sport encourages young boys and girls to golf with their friends, so the key is to get the group of friends all interested in playing.
The following True Sport Video presentation is definitely worth watching.