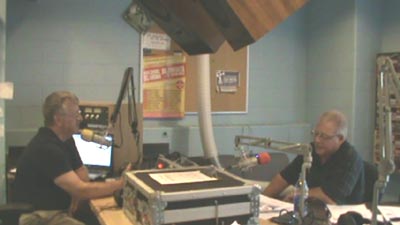 Robert Kirwan, host of The Learning Clinic Radio Show, which is broadcast live from Laurentian University on CKLU 96.7 FM, hosted a special After The Whistle show on August 29, 2011 with Robert Mazzuca, Commissioner of the Northern Ontario Junior Hockey League which governs play for seven Junior A level clubs in Northern Ontario and Sault Ste. Marie, Michigan. Robert Mazzuca is shown on the right in the photo.
Mazzuca provided listeners with a very comprehensive overview of the league and spent a considerable amount of time going over the benefits for young athletes playing in the developmental league. Graduates of the league have gone on to play in the Ontario Hockey League with the Major Juniors and many have gone on to earn scholarships at universities in Canada and the United States.
Mazzuca and Kirwan talked about a new Concussion Safety Program that is being introduced in the NOJHL this year and also related how this program can be used in high school sports to help determine when players with concussions are ready to return to play. This new program is based on the use of imPACT, known as the immediate post-concussion assessment and cognitive testing program. Under the program, players take a computer generated baseline test before the season begins. Then if they suffer a head injury during the season they are given another test to determine if there has been any change from the baseline. Players are not permitted to play again until their test is back to the level of the baseline and they get permission from a doctor to return.
The 2011-2012 season will certainly be a turning point for the NOJHL under Mazzuca's leadership. He hopes the introduction of a four-man officiating policy, plus the Concussion Safety Program along with several other initiatives will improve the image of the league, fill the stands for all games and eventually lead to expansion to as many as 12 teams.
You can listen to the full radio show by following the links below. You can also "watch" the show which was video recorded in its entirety if you prefer to watch on demand.
LISTEN TO THE ENTIRE RADIO SHOW

Robert Kirwan, host of The Learning Clinic Radio Show, which is broadcast live from Laurentian University on CKLU 96.7 FM, hosted a special After The Whistle show on August 29, 2011 with Robert Mazzuca, Commissioner of the Northern Ontario Junior Hockey League.

LISTEN TO THE ENTIRE RADIO SHOW BY CLICKING HERE
VIDEO SERIES OF THE RADIO BROADCAST
The radio show with Robert Mazzuca that was done above was also recorded on video and posted on Youtube. If you would prefer to "watch" the radio interview, you can do so by clicking on the following links: