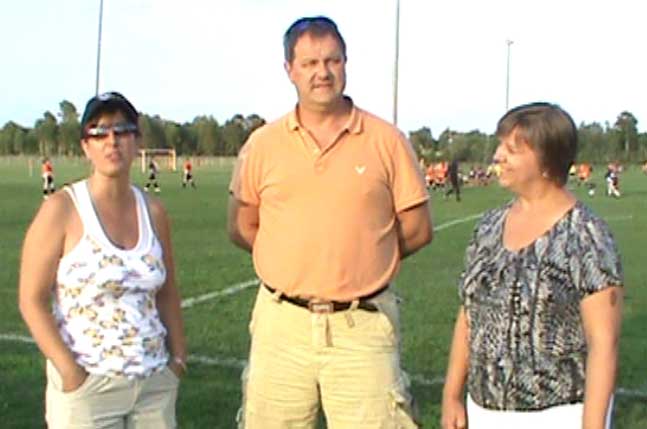 Two members of the Valley East Soccer Club have come up with an initiative that may very well form the "identity" of the Club for many years to come.

Richard Langlois, shown in the centre of the photo to the left, is serving his second term as Past President. He and his wife, Cathy, on the right, were talking one day about how it would be nice to organize a food drive during the playoff weekend of the Valley East Soccer Club. They decided to give it a try since it wouldn't involve much work and would be a good way of "giving back" to the community.

When Annie Rose, President of the Club heard about the couple's plans, she put her full support behind the initiative and now the entire Club is eagerly looking forward to seeing just how successful this drive can be.

The food can be dropped off at the Valley East soccer complex in distinguishable bins from Friday, August 12 to Sunday, August 14, 2011. The food will go to the Sudbury Food Bank which will then distribute it to all of the Food Banks in the City of Greater Sudbury. With over 1600 children and adults registered in the Valley East Soccer Club, the group is anticipating that anywhere from 1000 to 3000 items may be collected during the weekend.

What the Valley East Soccer Club is doing is clearly something that is consistent with what the TRUE SPORT MOVEMENT is all about, and True Sport Community Animator for Northern Ontario, Robert Kirwan, is going to make sure that this if the First Annual Event in a long history of successful food drives. Complete details can be found in the video presentation that follows.