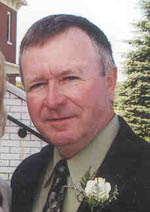 When Robert Kirwan began a part-time publications business with his wife, Valerie, in the mid-1980's, it was always his dream to one day work with his three sons as part of a larger company. That dream became a reality in the Spring of 2000 with the creation of Infocom Canada Business Consultants Inc..The company was incorporated on June 7, 2001.
In the early days when he began establishing his business, Kirwan, who in June of 2001 retired from a 28-year career as a teacher with the Sudbury Catholic District School Board, concentrated on special interest publications such as the Sudbury District Golf Scene, the Hockey Scene, The Howler (for the Sudbury Wolves), community business directories and also worked on a contract basis for other firms such as Northern Life and The Vision Paper in Valley East.
With the graduation of his oldest son, Ryan, in the spring of 1998 with an Honours Bachelor of Commerce from Laurentian University, the family secured a contract to manage and promote the golf program at the Forest Ridge Golf Course in Chelmsford, just north of Sudbury. During the summers of 1998 and 1999, Robert and his three sons worked on that venture. It was the first time that the group had worked together and it was a tremendous success.
When his 2nd oldest son, Warren, graduated from the Honours Business and Commerce Program at Laurentian University in the spring of 2000, they immediately ventured into the internet marketing field with the establishment of Infocom Canada. Ryan, by this time had decided to begin developing a career as an independent insurance and investment agent. He has remained a principal in the company, providing a wide range of financial services to clients of Infocom Canada. Ryan spent some time as Operations Manager with Vars Investments of Sudbury, a company which provides ATM and debit terminal services to businesses across Canada. He opened an independent money management company, eMoney Solutions in the summer of 2008 and has an office in Val Caron where he is the Sudbury representative of MortgageBrokers.com. He is a key player as Infocom Canada Business Consultants Inc. expands into the property development and real estate field.
In May 2002, Robert's 3rd son, Martin, graduated from the Honours Sports Administration Program at Laurentian University. In August of that year Martin established a Regional Office in the City of Vaughan, just north of Toronto. From that site he headed up the Southern Ontario Division of Infocom Canada Business Consultants Inc. until he embarked on a new career as a police officer with the Peel Regional Police Department in the summer of 2004. Marty is now married and is living in the Guelph area where he and his wife are raising their family. Martin provides the company with some consultation services in the management of the minor hockey web site at www.afterthewhistle.com.
Warren is now teaching with the Simcoe District School Board and currently resides in the City of Barrie with his family.
Most of the initiatives of Infocom Canada Business Consultants Inc. rely on the establishment of an effective network with other businesses, organizations and individuals. It is this networking philosophy which is expected to enable the company to grow and expand its client base among small and medium-sized businesses which are well aware of the need to make good use of the internet in order to compete with larger competitors.
Infocom Canada Business Consultants Inc. remains a family owned company which has a great deal of potential to become one of the leading marketing organizations in the Greater Sudbury Area through its strategic positioning.